A Murder in the Garden Club
To see an interview about the book, click here.
To order a copy of the book, click here or here.
The story behind 'A Murder in the Garden Club'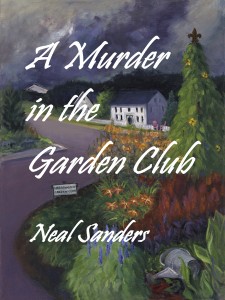 Throughout our lives, we collect stories. We may do it consciously or subconsciously, but those vignettes build up in memory. A Murder in the Garden Club allowed a huge assemblage of people and events to come tumbling out of my mind and onto paper.
A neighbor's son from my days in Alexandria, Virginia, was borrowed intact to become Tim Kahn, the sad-sack son of the woman murdered in the opening pages of the book. An elderly stockbroker with a wife in a nursing home may well recognize himself and his story because I have changed little more than his name. I worked for a year along side the man who became the model for David Phillips, the CEO-for-hire of distressed companies, who lives out of a suitcase for months on end.
Mostly, though, A Murder in the Garden Club borrows from the life I have observed around me in the town I have called home for most of the past 32 years. The characters of Sally Kahn and Roland Evans-Jones have real-life counterparts. Thankfully, 'Sally' read the manuscript and offered only the observation that she wished she could have her fictional counterpart's money.
I wanted to create a compelling story. I also wanted to create a cast of characters who could populate subsequent stories. To that end, Liz Phillips, John Flynn, and the town of Hardington are fully drawn in three dimensions. If there's a series, it has to rest on a solid foundation of characters a reader will want to come back to.
And, yes, there's a garden club in my town and my spouse was once its president. Some of the stories she told me found their way into the pages of the manuscript, with the likely impact that, once published, she will be ridden out of town on a rail by the club membership.
A Murder in the Garden Club is now available in print and Kindle editions through Amazon.com and selected bookstores. Here is the first chapter. Please be my guest and enjoy it!
The glorious cover illustration for 'A Murder in the Garden Club' was provided by artist Lynne Schulte. You can visit her website here or see her work at Studi027 in Georgetown, MA.
A brief synopsis
Who killed Sally Kahn? In tranquil Hardington, Massachusetts, there hasn't been a murder in 15 years. But someone pushed a moderately wealthy 65-year-old widow down her basement stairs, and then tried to make it look like an accident.
Two people will work – together and independently – to find the murderer. One will solve the case intuitively; the other will use physical evidence. Detective John Flynn retired from the Boston Police Department after 35 years and a quarter century as a detective with an outstanding record. His peers have taken their pensions and moved to Florida or Arizona; he has taken the job of police detective in Hardington, an affluent town where mailbox-bashing by teenagers is the principal crime. It is clear that John Flynn is hiding from something. He will solve the murder despite the best efforts of Hardington's police chief, who cannot abide the idea of a murderer on the loose in his bucolic town and so who arrests the first likely suspect.
Liz Phillips has a life centered on her garden and her garden club. Sally Kahn was one of her best friends and it is Liz who found the body. But we learn that Liz is a lonely woman – her husband is constantly on the road as a CEO-for-hire of distressed companies. Her daughter is married and living on the west coast. Liz will solve the murder, but will do so by intuition and by knowing of whom to ask questions.
The town of Hardington is also a central character in the book. For its first 300 years, Hardington was an out-of-the-way farming community; then, the 'Straw Hat Capital of the World'. In recent years, it has become a sought-after address for Boston's financial community with the result that affordable homes are being torn down to make way for 5,000 square foot 'McMansions'. The simmering resentment of 'townies' versus the new-money affluent is part of the mystery, and part of its solution.
The story unfolds over five days. Clues are found in atypical areas for readers of mysteries: in mirrored computers and mass spectrometers, for example. The path to the solution will twist through the economics of home building and the disposal of hazardous wastes.
A MURDER IN THE GARDEN CLUB
1.
Wednesday
"Chaos," Liz Phillips thought to herself. "Sheer, unmitigated chaos."
Before her, thirty-five women and one lone man gossiped while balancing cups of coffee, cakes and fruit. Gaggles of three and four spoke together in animated tones while casting glances at other groups across the meeting room, eavesdropping even as they followed the latest installments in long-running human dramas.
"Ladies," Liz said in an authoritative voice designed to override the multiple conversations. "And Roland," she said, smiling at the lone man. "Can we get started? It's ten o'clock."
Dutifully, the group took their seats, like sheep successfully herded by a border collie using just the right bark. The Hardington Garden Club had been called to order.
Liz looked over her attendees. Thirty-five was a good number for a June meeting when many members had already decamped for summer homes on the Cape or the Berkshires. Plus five unfamiliar faces – potential members drawn by the three-paragraph article in the Hardington Chronicle extolling the opportunity to see Alicia Meriwether work her magic in floral arrangements using ordinary supermarket flowers. Alicia always drew a crowd and summer meetings needed appealing names and topics to attract new members to replace those who moved, dropped out or, as it was put euphemistically, 'aged out'. Liz hoped that Mary Giametti, her membership chairman, had already buttonholed these guests and pressed membership applications into their hands along with the promise of camaraderie and improved gardening appreciation.
The Hardington Garden Club meeting was really three meetings. The social get-together that had been ongoing since a quarter past nine, when the first members began trickling into the meeting room of the Congregational Church, was one. The business meeting that was about to begin, and the presentation that would follow, were the second and third. The trick to running a successful garden club was to keep this middle section as mercifully brief as possible. Most of what members needed to know was in the club newsletter, and Liz noted with appreciation that almost everyone had in his or her hands the newsletter over which she had labored the previous evening.
"Next month's meeting is the trip to Fuller Gardens," she said. "If you haven't signed up, this is your last chance. The sign-up sheet is on the table by the door. If you haven't paid your five dollars for the trip, you have to get your money to Fran before the trip. You can't pay on the day of the trip. Your seat will go to someone on the alternate list."
Liz had hoped that this brief announcement would pass without comment, but a hand was raised from the third row. "Why do we have to pay? What are our dues for?" The speaker was Delores Simmons, a seventy-something member who easily got her $25 per year dues just in the amount of coffee cake and cookies she took home in her cavernous purse each month.
It was a question that Liz has heard many times before. "Admission to the gardens alone is six dollars per person," she said smoothly. "The bus holds forty-five and we were given a price of $450. That means the club is subsidizing eleven dollars of the cost of every member who goes." The answer was technically true. Walk-up admission to the garden was in fact six dollars and the original quote from the bus company was $450. But Liz had negotiated down the bus company to $350 and the garden to $100 by buying a club membership. The club was still subsidizing the trip, but members now paid more than half the cost. The real reason for the charge, though, had been settled in the garden club board meeting months earlier. If the club didn't charge something, everyone would sign up, including the members who never showed up for the workshops and sales that paid the club's bills.
The answer seemed to satisfy Delores, and Liz quickly rattled through a dozen items, glancing at a sheet of paper she had printed out that morning. "We need volunteers for a summer cleanup at Paula's Place and there's a sign-up sheet on the table by the door."
This would be a tough sell. Paula's Place was a residence for people seeking cancer treatment and was near the Longwood Medical Center in Boston. Tending the facility's garden means enticing half a dozen members to make a dreaded trip into Boston, eighteen miles but a world away from Hardington. Liz knew that she could count on only two or three regulars to make the trip in addition to herself. She would be shorthanded, as usual.
"And, Sally has a few words to say about care of your sites for the summer." The Hardington Garden Club's true claim to fame was its care of two dozen roadside gardens at town intersections and traffic islands. The club's annual expenditure for annuals and perennials for these sites was more than $5000. Sally Kahn, who managed the roadside garden program, wanted to protect the club's investment in those flowers by stressing the need for frequent watering now that the heat of summer was here.
Liz looked around for Sally. She wasn't in the room. Come to think of it, Liz couldn't remember having seen Sally before the meeting, though that wasn't unusual. Several members invariably tackled Liz as soon as she came in, and she had made a point of spending time with the guest speaker.
"Has anyone seen Sally?" A few shakes of the head from members. "Well, Sally wanted to remind you that it's time to start using those jugs you've saved to water your sites," Liz ad-libbed. "If a plant wilts, it's stressed, and stressed plants don't flower. And, if you alternate with someone on your site, please make certain that you've agreed who tends the site on what weeks. Keep the sites weeded in June and it will make life easier in July. And if you need to replace any plants, let Sally know ahead of time. She won't authorize reimbursement for plants you just go out and buy. And water. Unless it rains an inch, lots of water." That was as much as Liz could remember from the board meeting speech Sally had given. Liz made a mental note to send out an email reminder that evening, and to gently berate Sally for having made Liz give her speech.
With the official business of the meeting dispensed with in a crisp twelve minutes, Liz introduced her speaker. At noon sharp, the meeting was over. She managed to greet two of the prospective members and get names. The other three had slipped out of the meeting as soon as Alicia had given away the last of the six arrangements she had made. Tired and a little thirsty, she made her way to the church kitchen where Roland Evans-Jones, the club's lone male member, was cleaning up the jumble of cups and saucers left scattered after the meeting.
"How did you get stuck with clean-up duty?" Liz asked.
Roland smiled. "I volunteered because I knew it was the only way you'd ever get a decent cup of tea. I'm making a pot so you get yours fresh. Earl Grey? Another meeting, superbly managed." He slid a cup toward her and poured a cup for himself and for her. "I love Alicia dearly, but she really ought to keep track of her jokes." He took a long sip and picked up a tea biscuit. "She used at least a dozen of those lines when she did 'container gardens to die for' last year. I mean, you're paying her – what – three hundred dollars? You'd think we'd get fresh stories." Roland was at least seventy, possibly even a decade older. But he had more energy than members decades younger and the sharpest tongue of anyone in the club. "Your recovery for our friend Sally was just wonderful. And no, she was never here."
Liz stayed another twenty minutes as Roland gossiped about members' comings and goings. Roland told her that four of the club's members – Eleanor Strong, Alice Beauchamp, Paula Winters and Jean Sullivan – were now "thick as thieves" in Roland's words, and continually giggled among themselves from the time they entered the church to the final round of applause for the speaker. "I can't imagine what they have in common," he said.
Liz listened but seldom contributed. Gossip didn't much interest her, but Roland's charm was his ability to weave tales, and his animation when he spoke was fascinating to Liz. Finally, she held up a finger. "I've got to run," she said, mostly truthfully. She quickly gathered together her papers. Another meeting in the bag.
She backed her Jaguar convertible – "the official car of the female midlife crisis," according to her husband, David – out of a quasi-legal spot near the church and nosed into Hardington's noontime traffic on Main Street. With David out of town again for the week, Liz was in no hurry to go home. Also, it troubled her that Sally Kahn, who never missed a meeting, wasn't there. She decided to stop by Sally Kahn's house with the excuse of dropping off a sheaf of British gardening magazines she had brought to the meeting.
The Congregational Church was in the center of town, an eighteenth century anchor on the Hardington town green. A picturesque glimpse of what Hardington looked like when it was an obscure farming community. Settled in 1660, Hardington flew under the radar of development for the first three hundred years of its existence. It was too far out of the city to attract suburban development in the first decades of the twentieth century and then overlooked when expressways and turnpikes were built elsewhere in the fifties and sixties. Now, those very qualities made Hardington eminently desirable. Eighteen miles was now 'close in' compared to the subdivisions sprouting in towns 25 and 30 miles distant from the financial district.
Commuter rail running along the right-of-way of the old Boston & Hartford line obviated the need for navigating those now-overburdened expressways. The fastest of the morning express trains made just four stops and took 34 minutes to get to South Station. No wonder Hardington was filling up with what David called "hedge fund bonus babies", many of whose non-working spouses were now garden club members. Their homes sprouted like 4,500-square-foot mushrooms in former farm fields.
Hardington was changing, obscure no longer. The houses built in the sixties and seventies on acre-plus lots were now listed as teardowns, slated to be replaced by seven-bedroom "mansionettes" befitting the incomes – and the egos – of a new class of Hardington resident. The Victorians from the town's brief heyday as a manufacturing center – "the Straw Hat Capital of the World" – had been lovingly restored to their polychromed original look, only now with granite-countered kitchens and Jacuzzis for two. The surviving tiny, fragile homes from the colonial era were now enlarged into compounds. The original houses with their status-conferring year-of-construction plaque ("Bennett House – 1734") had long been overwhelmed by insensitive additions comprising master suites or indoor pools.
The signs of more recent change were everywhere. Liz was stopped at the traffic light at North Street where a cheese shop and decorator showroom had replaced Jenkins' Hardware, now moved to less pricey real estate on the north side of town. Taylor's, the town's "department store" for seventy years, still occupied one corner and did a brisk business, but its stock-in-trade was now Yankee Candles, expensive gift wrap and uniforms for various Hardington school athletic programs. In front of her at the traffic light were the two ubiquitous symbols of Hardington: a lawn service truck and trailer, and a Landini Brothers concrete mix truck. In a town where disposable incomes were high and free time was scarce, mowing a lawn was one of the first family routines to disappear. Of the eight homes on Liz's street, professional firms serviced seven.
The Landini Brothers truck was both the past and the future. The burgeoning suburbs between Routes 128 and 495, the two superhighways that arced around Boston, had turned the once-tiny sand and gravel company – actually located across the Charles River in Overfield – into a major player in concrete. Landini Brothers trucks were a constant presence through Hardington, slowing traffic to a crawl, belching diesel fuel and aging the town's roads at an accelerated pace.
Five minutes and a half a mile further along Main Street, Liz waited impatiently for the Landini Brothers truck to make its turn at Post Road, the acknowledged local's shortcut to neighboring Cavendish and then to Boston. As the truck waited for a gap in oncoming traffic, Liz had an opportunity to admire one of the club's roadside gardens. Main and Post or as Sally Kahn called it, "the Eastern Gateway." Eight hundred square feet of annuals and perennials, surrounded by a carpet of junipers. It was a beautiful design, a labor of love that had taken two years to install.
And definitely in need of watering, Liz noted. This was Sally's site and she was violating her own speech to the club – or, rather, the speech Liz had given on Sally's behalf. Liz knew Sally believed strongly in watering in the early morning, and chastised club members who ran sprinklers at midday. Main and Post had clearly not been visited that morning. The leaves on the recently planted annuals were drooped, their shallow roots in need of water.
The truck turned and Liz sped the last half mile to the Emerson Road turn that would take her to Sally's house. Sally was perhaps her closest friend. Though nearly a decade older than Liz, Sally was a true gardener in a world of people who were content to plant impatiens and rhododendron from Home Depot. She was also a dependable co-worker when others volunteered only if it was convenient. Sally spoke the Latin names of the plants in her garden as readily as she named her students from her days as a teacher. She was a kindred spirit, a woman with a passion for growing things and for thinking beyond the mundane.
Sally's street was, like Liz's, a cul-de-sac, though at the end of Pequot Court and opposite Sally's house was a path that led down the hill to the Hardington middle and high schools. The street was deserted at noon. Most mornings, Liz and Sally could count dozens of children using the shortcut. At least it was good that they were walking to school, they agreed, an increasing rarity in a town where SUVs lined up to drop off students at the school's front entrance.
Liz turned into the driveway and gathered the magazines. Like most Hardington residents, Sally seldom used her front door, preferring to enter through the garage. Liz had seen Sally retrieve a key from under a pot many times and it was there, as expected. Once in the garage, Liz was gratified to see that Sally's Prius was in place. She had half-feared that Sally had been called away on an emergency.
Liz knocked at the door and listened for a response. She heard the radio – a WBZ 'traffic on the threes' report – from inside the house but no sounds of footsteps approaching. She rapped louder and was rewarded by the yapping of Chipper, Sally's Pekinese. Liz tried the door and found it unlocked. She stuck her head inside. "Sally?"
Chipper immediately jumped at her legs, pawing madly at her pants. "Hey little guy," Liz cooed. "Where's your Mommy?" Then, louder, "Hey, Sally!"
Liz looked around the kitchen where the makings of breakfast were all around. The scorched smell of coffee too long in the pot reached her nose, and she instinctively took the pot from its Mr. Coffee warming stand. It appeared that three-quarters of the coffee had already steamed away. "Sally!" she said again, holding the coffee pot.
Chipper had been circling her feet, whining. The dog clearly needed to be let out. But at the basement door, the Pekinese stopped racing and began a mournful howl. Liz glanced down the basement steps.
And dropped the coffee pot.
There, at the bottom of the stairs, was Sally. Her eyes and mouth were open. Her neck was at an angle no human could achieve naturally. "Oh, my God," Liz said and carefully picked her way down the stairs. Liz had never seen a dead person before outside of a funeral home. Gingerly, she touched Sally's cheek. It was cold.
She quickly retreated up the stairs into the kitchen. Keep calm, she told herself. Grabbing her cell phone from her purse, she dialed 911.
"Emergency services." A woman's voice. A statement.
"My name is Liz Phillips. I'm calling from 11 Pequot Court. I've just found…"
"In what town?" the operator interrupted.
"Hardington," Liz replied, making certain she used the approved, local pronunciation, "Hard'n'ton". An out-of-towner, or a Boston newscaster, would pronounce the "ing".
"I'll connect you." Then five seconds of silence that seemed like an eternity. "Hardington Emergency Services," a different voice said.
"I'm calling from 11 Pequot Court. I've just found the owner of the home in her basement. I'm pretty certain she's dead." At those words, Liz's voice lost its composure, and she began to feel tears welling up. "Please send someone. An ambulance, medics, police. Someone. Please." Liz took the phone away from her ear for a moment and did not hear what the operator said.
"I asked if you will please repeat the address," Liz heard the operator say.
"I'm sorry," Liz said, and repeated the address.
"Is there anyone else in the home with you?"
"No, I just got here a few moments ago and found her. Please send someone."
"The police and an ambulance are on their way," the dispatcher said. "Can you give me the name of the person you found?"
"Sally Kahn." Liz started to feel the welling again. Sally Kahn was lying dead at the bottom of the basement stairs in her home. That was reality.
"Thank you," the dispatcher said. "Please wait there until the paramedics arrive." The line went dead. Liz stared at the phone for a moment, then her mind went back to work. The paramedics would expect to come in through the front door. The front door needed to be unlocked.
Sally's home had been built in the early seventies, as homes were starting to get larger, but long before the era of the behemoths being built today. She went into the living room and was stopped short, first by the unmistakable odor of animal feces. A newspaper was lying on the floor and, on it, a neat pile of Chipper's feces. Sally instinctively picked up the newspaper. Yesterday's Globe. From the teeth marks, Chipper had apparently pulled the paper off of the coffee table in order to conduct his business. A well trained dog, indeed.
That was when she saw the beer cans. Two of them. On the floor. That's odd, Liz though. Sally doesn't drink beer and she would never leave empty cans in the living room. She started to reach for one with her free hand but thought better of it.
Something's wrong, she thought. And then found that the front door was already unlocked. Sally never leaves her front door unlocked. She unlocks it if someone comes to the front door, she locks it when they leave. Twelve years of widowhood had made her aware of her vulnerability. Twelve years of being moderately wealthy had made her wary, period.
Retracing her steps back into the kitchen, she attempted to put the scene into a timeline that made sense. Sally was making breakfast. Sally had gone downstairs. Sally had fallen, perhaps she had tripped over Chipper. Chipper, she thought. The poor dog was whimpering again. Sally opened the slider from the kitchen to the deck to let him out. The back door, too, was unlocked.
As her mind was wrestling with these incongruities, she heard the sirens. A moment later, an ambulance came to a stop on the street in front of the house. Liz was at the front door before the paramedics, and was in time to see a Hardington police car pull up.
The next several minutes were a blur – paramedics descended the stairs and then emerged to fetch equipment and, ultimately, a stretcher. A policeman observed, spoke with the paramedics and made notes. Liz stood to one side, looking on. A second police car arrived bearing a uniformed officer and a man in a sports jacket and tie.
The man in the sports jacket pointed and spoke with the paramedics and the other officers. Several times, he glanced in Liz' direction but said nothing to her. Finally, he nodded his head to the paramedics and policemen and walked over to where Liz was standing.
"You made the 911 call?" he asked. Liz nodded. "This must be awful for you. Mrs. Kahn was a friend?"
"Yes," Liz said, not wanting to break down as she had on the phone. "She was a friend. I was dropping over some magazines for her. She missed a club meeting this morning…" Liz stopped, grasping why her friend had missed the meeting, and feeling ashamed that she had thought ill of Sally for not being there to give her pep talk or for not watering her site.
"You are Liz Phillips?" He read from a notebook.
"Elizabeth Phillips, yes. I go by Liz."
"And you live here in Hardington?" Liz noticed that he used the out-of-town pronunciation. His was more of a Boston Irish accent. Dorchester, she idly thought, though she knew no one who lived there and could not have placed Dorchester on a map.
"Yes. Number 8 Old Schoolhouse Road." The man in the sports jacket nodded in a way that said that he knew Old Schoolhouse Road. She shifted uncomfortably.
He noticed the shift and nodded in the direction of the dining room. "Perhaps we could talk away from all of this."
Settled in a pair of dining room chairs, he continued. "By the way, I'm Detective John Flynn. I'm sorry we have to be meeting under such circumstances, Mrs. Phillips, and I'll try not to keep you very long. Mrs. Kahn has a dog. I saw the dishes on the floor in the kitchen." It was a statement rather than a question but Liz nodded. "Small dog?"
Now that she had a name to go with the voice, she regarded Detective Flynn. Not too tall, maybe five-nine. A stocky build under the sports jacket, but no fat around the neck. An athlete, possibly a runner. Close-cropped brown hair with the first flecks of gray on the side. A kind face, she thought to herself, but with sad eyes.
"Pekinese. Chipper." Liz responded. "I let him out a few moments ago. He apparently really needed to go. He had – well, he had made a mess in the living room."
"Do you think that's why Mrs. Kahn fell down the stairs? She might have tripped over the dog?" He tapped his lips with a pen, peering intently at her.
"I suppose," Liz said. "Chipper is one of those dogs that lives to eat. He's always running around at mealtime."
"You have a dog?"
"No, a cat, actually." Liz was embarrassed by this admission. Cat Lady. Always a bad sign.
"Do you know how the coffee pot ended up on the floor?"
"That was me," Liz said, feeling the color drain from her face. "When I came in, the first thing I noticed was that the coffee was scalding. I was holding the pot when I… when I saw her."
"I'm pretty sure I would have dropped the coffee pot too, Mrs. Phillips. By the way, I don't see evidence of a Mr. Kahn. Was your friend married?" It was the first time Liz had heard Sally referred to in the past tense.
Liz shook her head. "Widowed. Twelve years. Charlie, Charles." Liz repressed a smile. As long has she had known Sally, it was always, 'my Charlie'. "My Charlie never took up golf." "My Charlie always told me I looked good in yellow."
"Children?" The question snapped Liz out of her reverie.
"Uh, a son and a daughter. Both grown. Carol lives in Atlanta. Tim – he lives in Boston. I think Sally said Allston or someplace like that. They're both in their thirties." Carol was fine, married with two children. Tim had dropped out of college and basically done nothing since except be a worry to Sally. Who was going to tell him?
"Brothers? Sisters?"
"No, just the two of them," she answered, half thinking about how to track down Tim. And people in the garden club needed to know…
"I meant Mrs. Kahn. Did she have any brothers or sisters? Living parents?"
Liz thought for a moment. Sally had buried her parents long ago. A brother? She couldn't be sure. "I don't think so, but I'm not certain."
The detective nodded. "Do you know how to get in touch with her children? Did Mrs. Kahn have a phone list of some kind?"
Liz looked around, memories jumbled together of Sally looking for phone numbers. "There's a bedroom upstairs that she keeps as an office. You'll see a computer, printer and some other equipment. There's a print-out of important numbers. She keeps it in a red binder."
The detective nodded and closed his book. He started to rise, but then sat, a puzzled look on his face. "Oh, Mrs. Phillips. I forgot to ask. How did you get in?"
Liz grew red in the face. "Sally always uses the garage door. She keeps a key under a pot. I've seen her use it hundreds of times." She had consciously used the present tense.
He nodded. "A fine old New England tradition. That one I ought to have figured out." And he stood up.
Liz did not. "Detective Flynn, I take by your questions that you assume this was an accident." This time she did not phrase it as a question.
He thumbed through his notes. "We'll have to investigate before we make any conclusions, but yeah, I mean, an older lady with a dog gets up one morning, the dog's yipping around while she's making breakfast, Mrs. Kahn starts down the basement steps and the dog runs between her legs. It's tragic, but it's an accident."
Liz pursed her lips. "The front door was unlocked. So was the back door. Sally never kept her doors unlocked. And there are two beer cans in the living room. Sally would never leave beer cans lying around. Also, she doesn't drink beer."
"You didn't mention any of that."
"You didn't ask any of that. You wanted to know what kind of dog she has."
The detective sat back down. "Mrs. Phillips, we're going to have a look around. We're going to make certain that we know exactly why and how your friend died. Thank you for telling me about the beer cans and the unlocked doors. In fact, thank you for all your assistance. I will get back to you if I need anything else. And I know how upsetting this can be. If you'd like someone to drive you home, I'll be pleased to arrange it." He handed her a card with 'Hardington Police' in bold relief.
More than anything else, Liz hated to be patronized. And, she thought to herself as she drove herself home, Boy, am I being patronized.
* * * * *
John Flynn sat at his desk and wondered, as he had every working day of the past month, why he hadn't been content to take his Boston Police Department pension and retire to Florida like everyone else he had worked with. Thirty-five years with the force, the final twenty-four as a detective. A stellar record for closing cases and a reputation for dogged determination. Enough close calls to feel he had earned his pension and the thanks of a grateful city.
And now, here he was in Hardington, a town that needed a detective the way – how did the old feminist thing go? – the way a fish needs a bicycle. A town where crime sprees consisted of bored teenage boys bashing mailboxes with baseball bats. In a month, his detective duties had consisted of organizing thirty years of case files, during which he had learned that Hardington had been the scene of exactly two homicides. Both were domestic violence cases, neither went to trial. A dozen burglaries and half a dozen rapes had been serious enough to warrant intense investigations. The perps had invariably been from Boston. There were drug busts, another symptom of bored children with access to money and a lack of common sense.
Apart from the two homicides, there had been roughly fifty death investigations. A couple of drug overdoses but the preponderance of the deaths was routine. Victim fell from roof after apparently suffering heart attack. Victim severed artery with power tool while working alone. Lives ended prematurely, but lives ended by accidents. In Hardington, you might electrocute yourself trying to install your 64-inch LED-LCD high-definition wall television system, but you weren't going to get murdered in your home.
His predecessor marked time for ten years and then jumped at the offer of a chief's job at a town on the Cape. He had left behind a meticulous set of notes for Flynn, a who's who of Hardington perps, such as they were. Who dealt cocaine and grass from out of Washington Gardens, the Section 8A project on Washington Street. Which teenagers were the ones to watch in case of a B&E. It was all here, how to be the Hardington town detective in a dozen single-spaced pages.
So, why was he here, he thought to himself, again?
Because he hated Florida, he thought. And he hated Arizona. And he hated golf, and fishing, and everything else that awaited him in retirement. Because at 56, he wasn't ready to retire. And he wasn't ready to spend his days trying to get interested in some damned hobby that had failed to capture his imagination for the preceding five decades.
And, when he got right down to it, he wasn't ready to spend every day at home trying to come up with something to say to Annie. They got along, such as they got along, because he routinely volunteered for twelve-hour shifts, weekends and overnight stakeouts. They got along because, on average, he could expect to be home and awake for perhaps ten to twelve hours a week. He had enough safe conversational topics to fill a dozen hours, but any more and there was likely to be trouble. Bliss was coming home to find a note on the refrigerator that Annie was at her sister's house.
So, Hardington was a place of refuge, a holding action that could keep him out of the house all day. It had been made clear, though, that here in Hardington, his was a forty-hour work week without possibility of overtime or weekends, unless he wanted to put on a uniform and direct traffic at a road construction site. Chief Harding kept to a budget. Chief Amos Harding, the fifteenth Harding to be a Hardington policeman or police chief. The town bore the name of his ancestors. So, too, did the police department. Chief Harding proudly spoke of his family's long line of service as a mark of distinction. After a month, Flynn had concluded it was more like a lack of ambition.
Before him were all the elements of an accidental death, but decades of intuition and police work told him it was not an accident, though it was not his practice to say so at so early a stage of an investigation. It was also not his practice to say such things to friends of the deceased who would inevitably twist his words as they repeated them as gossip.
Yes, sixty-something-year-old women got tangled in their dogs' feet and fell down stairs. And a fall down a flight of stairs could end in a broken neck. But such an outcome required that the individual take no action to break the fall – not grab for a railing or put arms out to cushion the impact. For Sally Kahn to have broken her neck in a fall down the stairs and still be an accident, one of two conditions was required. Either Mrs. Kahn be so drunk when she fell that she was heedless of the danger, or be unconscious at the time of the fall.
The first theory fit none of the facts. He had walked through the house when the EMTs had left and found Sally Kahn to be as Liz Phillips had described. She had been a meticulous housekeeper and well organized individual. There was none of the randomness or disorganization that came with someone who drank to excess, secretly or otherwise. Sally Kahn had not been drunk when she fell. The second theory – that she was unconscious – had promise and he held it aside to examine later.
But the larger alarm in his mind was the physical evidence. The EMTs had noted that state of rigor mortis was all wrong for an accident that had taken place six or seven hours earlier. If she were making breakfast, the logical time of death would be between five o'clock and seven o'clock this morning. At one o'clock, the time the paramedics arrived, Sally Kahn should have been in full rigor. Instead, the paramedics noted she was passing out of it. That put the time of death sometime before midnight. Say, as early as nine o'clock and probably not more than two hours later. Who makes breakfast before going to bed?"
He started scribbling notes.
Forensics. Here was the problem. Hardington was not equipped to survey a possible homicide scene. He was starting with nothing. For an official autopsy, he would have to call in the State Police, considered by Boston PD to be incompetently run and staffed with lifers who couldn't get a job with 'real' police departments if their lives depended on it. And, once he called them in for an autopsy, he would have these incompetents horning in on the opportunity to pursue an interesting homicide – interesting because it wasn't Yet Another Drug Deal Gone Bad or a domestic violence. Not a ground ball.
Tim Kahn. The son. Sally Kahn's desk had yielded an address and a phone number in Allston. He noticed Liz Phillip's body language had shifted perceptibly when she provided his name, something she had not done when mentioning the daughter. She didn't like him or there were some very bad associations. Who lives in Allston? People who lived there all their lives, college kids who couldn't afford someplace closer to their school, twenty-somethings fresh out of school and saving for a 'real' place – and people with a drug problem. He tried to picture Elmore Street, the address in Sally Kahn's address book. Shabby and anonymous.
He picked up the phone and dialed a familiar number, a Boston PD detective with whom he had worked for more than a decade.
"I need a couple of small favors," he said after a few minutes of pleasantries. "I've got a suspicious death and I need an autopsy. And I need to keep this as far away from the staties as possible. Next, I need a house dusted and inspected, low key but thorough. Third, I need a rundown on a person of interest. Timothy Kahn, 114 Elmore Street, Allston. Just surface stuff from whoever in the precinct might have run across him."
He listened to protests, he parried with lists of favors, personal and professional, done over many years. A compromise was found. He put a check next to 'forensics.'
Next, he called Tim Kahn's number and crossed his fingers. An answering machine. Flynn had just bought himself a couple of hours. He left a message asking Mr. Kahn to contact him at the Hardington Police Department, saying it was important, but not providing the reason. Flynn consciously did not give his cell phone number. He had made the required call and made it promptly.
The next call went to the daughter in Atlanta. Twenty-four years as a detective came into full play as he told the woman that her mother had met with an accident. Carol Kahn would be on a plane as soon as she could arrange for someone to care for her children.
He then called the son of a friend, twenty years old, aching to get a slot on the Boston PD, and willing to do menial work to beef up his law enforcement résumé and get a reference from a detective. "I need an exterior babysitter for a house that may have been a crime scene. The job starts immediately and lasts until I say otherwise. You stay out of sight unless someone tries to go in. Then you make a polite interception." The son of the friend readily agreed.
He made a final call, hoping not to get an answering machine, and was rewarded with, 'Hello'.
"Mrs. Phillips, this is Detective Flynn. I have some follow-up questions and hoped you would be home this afternoon." He got a satisfactory response. "I'll be by in about half an hour," he said.
Flynn got up and knocked on Chief Harding's door. Harding looked up from the Boston Herald.
"I want to brief you on the Sally Kahn death," he said, keeping his tone flat and casual. Harding invited him in and motioned to a chair.
"Sally was a real fine woman," Harding said. "New people, but good people. Here about – what – thirty years now? She took care of the flowers out in front of the station for about five years with the garden club. Never let a weed creep in. You know she also use to teach up at the high school. Very popular teacher. That's a real shame."
Flynn had suspected Chief Harding and Sally Kahn would have known one another. He chose his words carefully while keeping the casual tone. "It appears accidental," Flynn said. "She fell down the basement steps, probably tripped over her dog. Broke her neck. I'm still trying to nail down the time of death. I'll try to have a full report tomorrow. I've called the daughter. She's flying up from Atlanta in the morning. I also called the son and left a message."
Harding shook his head. "Tim Kahn. I haven't thought about him in years. A real bad egg. Used to get in a lot of trouble. Mixed up in – what – drugs? Alcohol? Where does he live now?"
"Boston," Flynn replied, leaving out the specifics.
"Well, I hope he turned himself around. That kid was a pain in the ass."
Flynn nodded. "I'll keep you posted." And he left before Chief Harding had time to develop any more questions.
Back at Sally Kahn's house, he chalked everything he thought would be of value for fingerprinting and tagged items that crime scene investigators would carry out. He hoped that his plea for discretion wouldn't get lost in the relaying of messages from one individual to another.
Fifteen minutes later, he turned the corner for Old Schoolhouse Road. Money, he thought to himself. In Hardington, wealth translated into property. A lineup of colonial-style houses on steroids, each on at least a two-acre lot, each with manicured lawn and tennis court or swimming pool. Houses with three-car garages and annual property tax bills equal to the size of a compact car, and he would bet a week's pay that not a one of them had voted in the last town election or been to the annual town meeting.
It wasn't hard to spot Liz Phillips' property. Instead of manicured lawns, a pool and a tennis court, it was manicured flower beds stretching the width of the property and then bordering the driveway. Nice, he thought. And it probably takes an army of Guatemalans to keep it looking this way.
* * * * *
The reality of Sally Kahn's death did not strike home until Liz put down her purse. Damn it, she thought to herself. I forgot to leave Sally the gardening magazines. Which is when she realized that Sally would never see those magazines or speculate on whether manure or chemical fertilizer was being used to create such gorgeous dahlias in the photos.
Sally Kahn. Friend, fellow gardener, fellow tea lover. Health nut, golfer, confidante. One of the few people with whom she could truly open up. Someone for whom the truth was not something to be packaged.
Sally Kahn… tea lover…
What in the hell was a coffee pot doing being plugged in? Sally hated coffee and only kept a coffee maker for the occasional guest or neighbor who drank the stuff. She would never put on a pot for herself.
And, something else was out of place. She mentally went over the rooms she had just seen. The kitchen – the makings of breakfast. A melon waiting to be sliced, a bowl, cereal, a banana… and the antique sugar bowl. Sally pulled out that sugar only when she baked or had company. Sally, the health and fitness freak, would no more have put sugar on her cereal than she would have put salt on it.
Which meant just one thing. Sally wasn't alone this morning.
For reasons she could not fathom, Liz found her hands shaking. Assume, just assume, that Sally was making breakfast for two, and that the second person was the one for whom the sugar and coffee were intended. Where was that person? Why didn't they call the police?
Put that together with the unlocked doors and the beer cans.
Whatever happened to Sally Kahn was no accident.
The detective's words were also still in her mind. "We're going to make certain that we know exactly why and how your friend died."
Yeah, right, Liz thought. You condescending asshole. She picked up the phone.
"Roland, it's Liz. I'm afraid I have some horrible news. Sally's dead." The first part was easy. The balance – saying that she had found Sally, was infinitely harder, and Roland was both sympathetic and probing. It took ten minutes to get to the questions she wanted to ask.
"Roland, you saw Sally yesterday, didn't you?"
"We have lunch almost every Tuesday. You know that."
Liz chose her words carefully. "Was she worried about something? Did she act strangely? What did you talk about?"
Roland paused. "Are you suggesting…"
Liz cut him off. "I don't know. Some things don't add up, but I don't want to say anything until I know more. So, what did you talk about?"
She heard Roland's sigh. "If you tell someone else 'what doesn't add up' before you tell me, you'll never hear the end of it, Missy. Mostly, we talked about the club and about Tim. Tim has been bugging her every other day. Tim needs money to get his car repaired. Somebody stole Tim's television and he needs a new one. Tim needs money to go to Arizona where a friend is going to get him a job. Tim lost the rent check. Sally was very distraught."
Liz knew well about Tim's insatiable need for money because it was also an occasional part of her and Sally's private conversations. Tim was almost certainly a drug addict, and a lazy, lying man-child who blamed everyone else for his problems and who expected his mommy to bail him out. Sally had confided to Liz that he was undergoing treatment for Hepatitis C, a condition that was an invariable consequence of drug use. Sally saw in Tim her failings as a mother, coupled with Tim's inability to get over his father's death. Liz saw a monster who manipulated and tortured his mother, and she had said as much many times. And Sally kept writing checks.
"Was he coming out to Hardington?"
"Oh, yes. She wanted to make him dinner, but he said he had a job interview and couldn't get out until later. Job interview, my Aunt Fanny. I told her, for probably the two-hundredth time, that it was time to cut him off. He's never going to get better as long as she plays the enabler."
"Roland, I've told her the same thing. She won't listen." Liz stopped and choked on her words. I'll never talk to her again. We'll never have those conversations again.
"I know what you're thinking," he said, gently. "We'll get through this."
Liz comported herself and breathed deeply. Keep it together, she thought. "Was he driving out?"
"Nooooo. He was going to take the 'T' and call her from the station, I think. Or take a cab. Remember, Tim's car broke down. If he didn't sell it. If he ever had one in the first place."
"Did you talk about anything else?"
"Oh, lots of things. She was all excited about some new day lilies she found at Weston Nurseries. Excuse me, hemerocallis. My god, you would have thought that woman grew up speaking Latin. For the first two minutes, I thought she was talking about finding some kind of hand cream. She was all over Landini Brothers because one of their trucks ran over her site or something, and they practically threw her out of their offices when she went there to complain. We talked about Charlie, and what a good man he was. We talked about the club and what a great job you're doing, and we talked about you."
"Oh, god. Why did you talk about me?"
"Sally is afraid you're going to move. You're going to sell your house because Sarabeth is married and David is never home and it's too big a place to take care of. And if you move, she said she'd lost the only friend who knew more about plants than she did."
Sally was right, Liz thought. The place was far too large…
"And I guess you may as well know this," he sighed. "Sally had made up her mind that she was going to 'out' Irina at the meeting today. She was very mysterious about what evidence she had, but she said she finally had 'got the goods', and she was going to tell everyone Irina was a thief."
"Oh, god, no," Liz said, bewildered. "Why didn't you tell me this? Why didn't Sally tell me this?"
"Because we both knew you wouldn't stand for it. Because you'd make the two of them sit down and work it out. You'd be on Sally's side but you'd be very even-handed. And Irina would write the club a check for about fifty dollars and that would be the end of it. Until next spring and then she'd do it again."
Liz slumped in her chair. The petty business of running a club. Sally ran the roadside garden project with its two dozen sites, and managed its $5000 budget. Each site manager submitted an annual estimate to replace plants and to add annuals. Most members were meticulous about the number of plants they requested. Many paid for additional plants from their own pocket. Irina Burroughs, nee Dupree, nee Volnovich had, in three years, annually submitted receipts for hundreds of dollars' worth of plants that never made it to her site. Two dozen premium geraniums for which the club was billed a hundred dollars would miraculously morph into six scraggly plants that could be purchased at Lowes for two dollars each. The previous program manager had tolerated Irina's excuses that the plants must have been "stolen". Sally was livid that a member of a group performing a public service would steal from it.
She and Sally had talked it through several times. Liz had, three weeks earlier, spoken privately with Irina, who protested her innocence and would admit to nothing. Liz's solution was to propose giving maintenance of Irina's site to another member. No more opportunities to submit bills, no more opportunity to steal. Sally, though, wasn't satisfied. She wanted Irina to be shamed in front of the club. Liz had said that, without proof, nothing could ever be said publicly. But in point of fact, Liz didn't want to say anything publicly. The garden club was supposed to be about harmony and working together, not about pointing fingers of blame.
"…I notice Irina didn't show up for the meeting," Roland was saying.
Liz's mind snapped back to attention. "I'm sorry, Roland. What did you say about Irina and the meeting?"
"I said, Missy, that our little Russian mini-mobster didn't come to the meeting because she probably caught wind of what Sally was going to do."
"How would she have known that?"
"Oh, because Sally doesn't just confide in me. She would almost certainly have told Mary Giametti or Rose – you know, felt them out about whether it was a good idea. Chances are, one of them would have dropped a hint, and Irina decided to stay away for the duration."
"You said Sally had – what did you say – 'got the goods'. Did you mean Sally had proof? What was it?"
"Oh, she was very mysterious. She just said, 'I've finally got the goods on her, and everyone is going to see for themselves tomorrow.'"
Liz sighed. "Roland, you know how I feel about this. Why didn't you tell me?"
Roland sounded sheepish. "I just thought it would be great drama. You know, 'j'accuse' right in front of the assembled membership. Maybe big blow-up photographs of Irina's yard down in Mattapoisett with little arrows pointing to plants that belong at the corner of Washington and North. Summer meetings are always so dull."
Liz rubbed her temples. She had other people to tell. She was going to need help. Roland was the perfect bearer of the news. "Can you call some of the members for me? Just tell them the facts, though, not the stuff about Irina. And please don't say that I have my doubts. If I hear that back from anyone, I'll never speak to you again."
"You have my word as a gentleman and an antiques dealer, Liz. Paul Revere will tell the facts, and just the facts. And I'm very sorry to hear about Sally. I'm going to miss her very much."
"Me, too, Roland. I'll talk to you later."
Liz looked at her watch, it was almost four o'clock. She wanted to call David and tell him. They had talked, as they did every morning when he was away, at six. It was a morning 'hello' and an exchange of schedules. What had he said about today? Customer meetings? His life was an endless series of meetings with banks, employees and customers. He would fly home Friday night, drained by another eighty-hour week.
She dialed the number in Pittsburgh and got his secretary. He was on a conference call. Would she like to leave a message or to go to voicemail? Liz said, "Just ask him to call."
Liz made half a dozen calls to people whom she had known were close to Sally. Each one wanted to commiserate, each one to say that they were sorry that Liz had been the person to find Sally. To none of them did she voice her suspicions. She had just completed a call when the phone rang. The caller ID said, "Hardington PD." She picked up the phone and was surprised to hear Detective Flynn on the other end of the line.
A half an hour later, there was a knock at the door.