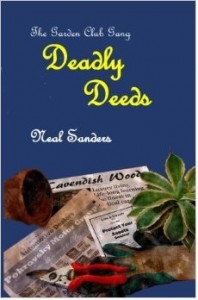 When 'The Garden Club Gang' was published in 2011, I had no thought to it being anything other than a stand-alone story.  After all, you can rob a fair only once.  But the reaction to the book was immediate and vocal: "What are 'the ladies' going to do next?" is the question I have fielded ever since.  It took two years to come up with a satisfactory answer to that query.
I did not set out to write a screed against nursing home care, automotive dealers, or 'protect your assets' law firms (although I find the latter's ads as annoying as do the characters in the book).  Rather, the genesis of the story was attending the wake of a nonagenarian member of my garden club which, like the one for Cecelia Davis, took place in the nursing home where she and her husband resided.
That event sent me on a research mission to learn about nursing homes and then an expanding circle of eldercare-related subjects.  Within a few weeks, I was certain I had a plot worthy of 'the ladies'.  As to Pokrovsky Motors (alluded to in the final paragraphs of The Garden Club Gang), newspapers are filled with a depressing number of scams of the type being run by both 'Smilin' Al' and his son.
I pride myself on 'getting details right' and, to the best of my research abilities, what Eleanor learns about getting her husband 'Medicaid ready' in Chapter 26 is accurate, even if the fictional firm of Liss and Swann has pulled out every trick in the collective book.  Jane Cronin's confession about the 'fundamental lie' of Medicaid care in Chapter 16 is also well documented as are the financial arrangements required by CCRCs such as the fictional Cavendish Woods.  A Google search of Kristen Gilbert, Charles Cullen, Cathy Wood and Gwendolyn Graham will provide ample details about caregivers in nursing homes who have deliberately caused the deaths of patients under their care.
Please be my guest to read the prologue and Chapter 1 of Deadly Deeds.  If you like what you read here, you can find or order the book through bookstores, or in Kindle or print editions via Amazon.
DEADLY DEEDS
Prologue
Al Pokrovsky, Jr. slumped by the side of the car and wondered how it had all come to this.
His father certainly never had these problems.  His father, "Smilin' Al" Pokrovsky, apparently never had a problem in his entire, charmed life.  But then Smilin' Al had bought his first Toyota dealership for $25,000 back when American cars ruled and Japanese imports were the butt of jokes. Smilin' Al had built an empire selling inexpensive, fuel-efficient Toyotas, Hondas, Hyundais, Kias, Subarus and Mazdas to New Englanders shell-shocked by inexorably rising gasoline prices.  Seven years earlier, Smilin' Al had bequeathed that money-minting empire to his son.
And now it had all fallen apart.
It was two in the morning, and surrounding him were eighteen gas-guzzling behemoths; gargantuan vehicles that had cost him $1.2 million.  Eight months earlier he had seen the future and it was these autos. The economy was rebounding and America again wanted off-road luxury.  The beauty of it all was that instead of squeezing out a few hundred dollars profit from the sale of a $22,000 car, he would earn more than $20,000 in net profits off of each sale.  It was the beginning of a new era; one where he would emerge from the shadow of being "Junior" – Smilin' Al's son who inherited his father's tried-and-true playbook and had no new ideas of his own.
Except that it wasn't the future.  No one had taken any of these test vehicles for a test drive in months, even as he piled on the incentives and added special advertising.  After eight months in inventory, it was clear that no one wanted these obscene cars with their rhino guards and mountaintop suspensions coupled with fine leathers and rare wood trims.  He had paid $1.2 million for instant junkers.
He sighed and pulled himself up.  It had to be done.  If he didn't do it, these cars were going to sink the entire overextended Pokrovsky chain of dealerships that stretched from Rhode Island to New Hampshire.
To save his empire, he had, over a three-week period, quietly sequestered these eighteen vehicles in a remote corner of his Reading dealership.  Tonight, he would solve his financial problems with the striking of a match.
The graffiti he had painted on them was a perfect mixture of righteous moral outrage and deeply disturbed environmental extremism.  "STOP THE PIPELINE", "THE 1% CAN TAKE THE T", "SHAME", and "FRACKING"  with a circle and bar through the word. Some he had spray-painted with his left hand, some with his right.  Now, he doused gasoline from the third of the three, five-gallon cans on the last of the vehicles.
With the final ounces of the can's contents, he poured a trail to a safe distance.  From his pocket, he pulled out a pack of convenience store matches.  He struck the match.
Suddenly there was blinding light from four sources.
A bullhorn blared, "You are under arrest!"  A figure with a fire extinguisher and flame-retardant suit appeared out of nowhere, grabbed the matches from Pokrovsky's hand, and began spraying foam over the gasoline trail he had created.  Pokrovsky put his hands above his eyes to shield them from the lights.  He began to be able to discern activity.
Perhaps fifty feet from him, a state trooper held a bullhorn.  A ring of firemen stood by their equipment, apparently ready to put out any flames that Pokrovsky might have managed to start.  Two more state troopers held video cameras.  They had captured every moment of his intended arson from two angles.  How had he missed all those people?
Then, his eyes shifted to a group of five individuals standing off to one side of the law enforcement tableau.  He adjusted the shielding of his eyes and squinted.  They were women.  They were not moving.  They just stood there, three of them with their arms crossed, looking back at him.
As he adjusted to the play of light and shadow, he thought he recognized some of them.  Was one the old bag who had been temping in accounting for the past two months?  If so, what in the hell was she doing here?  The thin one looked like the blonde woman who had taken a dozen test drives and spent days in the showroom with some story about buying two dozen cars for her husband's company's salesmen.  There was a new runner who dealt with the RMV paperwork.  Was she the heavy-set woman on the right?
And then his eyes went to the tall one.  A young, African-American woman.  This one he definitely knew.  It was the goddam insurance investigator who had been all over his case after two of his slow-selling cars had been totaled during test drives – accidents he had carefully arranged – and two trial-run auto torchings attributed to eco-terrorism.  Unable to prove his complicity, her company had grudgingly paid the claims.  Now, she was smiling.  She noticed he was looking in her direction.  She uncrossed her arms and waved at him.
Peripheral movement caught his attention and he turned to see.  It was one of the state troopers, walking toward him.  He carried handcuffs and a gun.  The trooper's gun pointed directly at him.
Al Pokrovsky, Jr. suddenly became aware of the warm wetness on his right leg.  He had peed his pants.
1.
Alice Beauchamp studied herself in the mirror.  It is a wake, not a funeral, she reminded herself.  Gray seemed to be the proper choice.  The silk blouse with its carefully tied bow conveyed respect.  The dark gray skirt showed modesty.  She wore no jewelry; this was not a time for ostentation.  A friend had died and she was paying her respects.
No.  Cecelia Davis had been more than just a friend and one-time neighbor.  They had been one another's shoulder to cry on, sounding board, and keeper of confidences.  Though more than two decades apart in age, they were more like sisters than friends.  Cecelia had even called Alice her daughter.
And now, at 93, Cecelia was dead.  Dead without warning.  A heart attack, they said, likely brought on by mourning the death of her husband, Harry, four months earlier.
Poor Cecelia, she thought.
Harry had been the constant in Cecelia's life.  He was a successful lawyer, beloved and respected within the community.  He chaired a church building committee and was president of the Rotary Club for nearly a decade. He gave generously to community causes, and Cecelia had told Alice – strictly in private – that Harry was also on Hardington's Home Committee, a group of local businessmen who privately helped families in need.  His mind remained sharp, and he had kept up his law practice well into his eighties.
Two years ago, Cecelia's world had been upended by Harry's stroke.  Six months of rehabilitation had only confirmed the original diagnosis: the right side of her husband's body was permanently paralyzed.  He could no longer feed or bathe himself and required far more care than Cecelia could provide.
And so, reluctantly, Cecelia and Harry had sold their home and moved to Cavendish Woods, a 'life care' facility that provided Harry the services he needed.  It was, she said, the best option available; frightfully expensive but, then, Harry had invested wisely through the years.
Alice took one final look in the mirror, applied a light coating of blush to her cheeks and pronounced herself ready to say goodbye to her old friend.
* * * * *
Paula Winters felt a sense of satisfaction as she pulled into the parking space in front of Alice's condominium.  Six months earlier, Alice had resided in Hardington Gardens, a depressing town-owned housing complex for seniors on limited incomes.  Alice's share of "the job" – as they all called it since that day in August when they had robbed the Brookfield Fair and unintentionally walked away with $350,000 of money intended for payoffs – coupled with generous contributions from other members of the Garden Club Gang, had paid for Alice's condominium in Olde Village Square.  In the three months since Alice had moved in, the physical and emotional improvement in her friend had been palpable.
But then, all four of their lives had changed.  Eleanor's anxiety over the cost of her husband's nursing home care had abated.  Jean had taken her cruise and, while she failed to find a husband, she had returned in better spirits, a mood that continued to the present.
And Paula?  She inhaled the chilly February air.  She was alive.  She had come through the surgery and made a full recovery.  Four follow-up visits since her rehabilitation each showed no cancerous cells.
And she had Martin Hoffman in her life.  He was the single most unexpected outcome of the entire affair.  Twice a week – sometimes more often – they would go out for dinner or into Boston. On the nights they did not go out, they talked on the phone.  It was intoxicating, and she prayed it would last.  He had not yet spent the night, but it was only a matter of time.
Which made hiding her "secret" life all that much more important.  When she told Samantha Ayers she couldn't play a role in the Pokrovsky Motors operation, Paula had been honest: Martin was aware that Samantha worked for Mass Casualty because the two had "cooperated" on solving the Brookfield Fair heist (a "solution" that provided a satisfactory set of arrests for law enforcement agencies while leaving the four women completely in the clear). Paula's fear was that, when and if Al Pokrovsky was put on trial, his attorneys would go looking for the "little old ladies" who infiltrated his Reading dealership.
Samantha had understood.  Accordingly, Paula's role became primarily one of an observer.  Nothing would link her to the investigation.  Paula spent dozens of hours at the dealership over a month-long period getting to know the staff under the guise of making a fleet purchase.  While she had made several of the crucial observations that tipped Pokrovsky's plans, Paula was part of no official record.  Moreover, Paula's share of the "bounty" was paid directly to the "GCG Trust".  She was safe.
Paula saw the door open and Alice Beauchamp appear.  Alice's face brightened when she saw her friend.  They had a lot of catching up to do.
* * * * *
Seven months of the year, the entrance to Cavendish Woods was awash in lush flowers and groomed shrubs.  Now, under a coating of snow, the dominant feature was a 15-foot-high statue of Athena, the goddess of wisdom, beside a ten-foot-wide globe.  The objects were likely cast from resin, but the resemblance to marble was unmistakable and likely intentional.
Athena, in turn, was the recurring theme within Cavendish Woods, a thirty-acre development along the Charles River in which the words "nursing home" never appeared.  Instead, this was a "continuing care retirement community" with lifetime education as its noble purpose.  Its residents could pursue non-degree courses with moonlighting professors from nine area colleges and universities.  Cavendish Woods' five-person Education Department organized field trips to museums and excursions to the cradles of civilization around the world.
There was even a small art gallery and a museum on premises, comprised of loans from residents and minor works from museums.  When you gave your address as Cavendish Woods, it was understood you had taken up residence at an exclusive college catering to those seventy and over.
As she had done every time she entered the property, Alice marveled at the meticulous attention to detail.  The individual units for those of means who were ambulatory and needed only occasional medical care looked like lakeside cottages.  And, indeed, many of those cottages were on two small ponds, now ice-covered.  Closer to the center of "the village" was "The Overlook", an elegant, low-rise apartment block with spacious balconies and terraces.  It was here that Cecelia and Harry had moved, and where Cecelia had remained after her husband's health began its terminal decline four months before his death.
At the village center was the Great Lodge, a collection of restaurant-style dining rooms, conference rooms and classrooms, a theater, boutiques and conversation areas.  In warm weather, a terrace overlooking the Charles River hosted concerts.
Paula pulled into a visitor's space by the entrance to the Great Lodge.  Though she had been here only once before; to attend an Ikebana demonstration a year earlier, her own practiced eye looked beyond the veneer of the pursuit of late-in-life education and peeled away the façade to discern the ultimate reality.
She knew that off to one side of the Great Lodge, behind dense shrubbery and tall evergreens, would be the skilled nursing facility where those too mentally or physically frail to care for themselves lived out their last months.  The facility's location – or even its existence – was not marked on any of the dozens of fingerpost signs they had passed during the half-mile meandering drive past the main entrance.  Mortality was one thing; a person could face the reality that their lifespan was finite.  Helplessness was something completely different, and Cavendish Woods did not want to remind its residents that the end of their lives might be spent in a thicket of tubes and machines.
Cecelia had been Paula's friend as well.  Twenty years earlier, when she was a shy, thirty-two-year-old newcomer to Hardington, Paula had attended a meeting of the town's garden club.  Five minutes after entering the room, the spry, seventy-three-year-old Cecelia Davis had taken Paula under a protective wing. Cecelia introduced her to every club member under the age of forty, and sat with her during a presentation on vegetable gardening, offering sotto voce asides on what she thought was right and wrong with the presentation.  Paula joined the Hardington Garden Club that day.
Their four-decade age difference was too great to allow a close bond to form.  Paula's life was consumed with juggling the demands of two children and her husband's new business, while Cecelia already had grandchildren who were teenagers.  But Cecelia was a pleasure to talk to, even if her stock-in-trade was gossip about people who Paula barely knew.  More than anything, Paula appreciated Cecelia's sunny outlook on life and enjoyment of the everyday.  Though not as close as Alice, Paula counted Cecelia as someone about whom she cared, and the news of her sudden death had been accompanied by a strong sense of loss.
Inside the main entrance to the Great Lodge was a poster-size photo of Cecelia and an arrow pointing to the complex of meeting rooms.  Nearby, an electronic message board listed half a dozen activities: Thai food preparation, intermediate German, Course 303 of European History, web page development, a rehearsal for an unnamed play, and "Davis Wake" in the Mountain Laurel suite.
* * * * *
They entered a large room that already hosted at least thirty attendees.  A few were men in suits and women in dresses but most wore slacks and sweaters.  To Alice, informal clothing conveyed a lack of respect for someone who had been a pillar of the community for more than half a century.  A number of children were in the room – probably Cecelia's great-grandchildren to judge by their age.
There was a guest register which she signed, and then Alice joined the line to pay her respects to the family.  As she waited, she assessed those to whom sympathies were being expressed.  At the head of the receiving line was a man her own age.  That would be Rudy, Cecelia's oldest.  He had aged visibly in the last few years; his hair was white and reduced to a fringe around his ears and the back of his head.  He had also grown fat, his belly extending over his belt and jowls that shook as he spoke.  At his side was Donna, also white-haired and twenty pounds heavier than Alice remembered.
Next to Donna was Cecelia's middle son, Pete.  Pete had to be in his mid-sixties, but his hair was brown, until Alice looked more carefully and determined it was a toupee.  Also, Pete's wife, Clarice, was not part of the receiving line.  Alice knew – because Cecelia had told her two months earlier – that Pete and Clarice had separated.  But didn't respect for your mother-in-law and the grandmother of your children trump personal discord?  Pete had an earnest expression on his face as he spoke or listened to each person in line, as though trying to find some hidden subtext in their condolences.
Next to Pete was what Cecelia had always jokingly called her "one for the road" child.  Alex would be in his late fifties now.  He looked much younger than his brothers and still had an athletic build.  He was the son who was still at home when Alice and her late husband, John, moved to Hardington and purchased the home across the street from the Davises.  Alice did not recognize the woman standing next to him.  While Rudy and Pete lived in the Boston area, Alex had moved to California after college.  One of Cecelia's continuing laments had been that she saw too much of her older sons and not enough of Alex.
Beyond Alex was a gaggle of men and women ranging in age from their thirties to late forties, only two of whom Alice recognized.  These would be a cross-section of the grandchildren, few of whom showed any emotion as they quickly greeted and shuttled along the line of mourners.
Alice reached the head of the line and was greeted by name by Rudy, who grasped both her hands in his.  "I was hoping the gang from the neighborhood would turn out," he said.  Then, repeating a line he had spoken to her the previous November, when Alice had stood in a different receiving line for the death of Harry Davis, Rudy cocked his head and said  "I heard you had moved to Florida…"
"Just for a few years," Alice said, forcing a smile. "I'm back.  This will always be my home."  Then added, "I've just moved to Olde Village Square."  She wasn't certain why she felt the need to establish that her address was a 'good' one, but then relegating her to being just part of 'the gang from the neighborhood' was a hurtful thing to say.  Alice, after all, considered Cecelia one of her closest friends.
"Mother lived a very long and full life," Rudy said, patting Alice's hand.  "We were all proud of her."  To Alice, it sounded like a trite and unfeeling statement.
Alice exchanged a few perfunctory words of condolence with Donna Davis, whose attention appeared to be focused on the young children playing nearby.  Alice turned her attention to Pete.  Yes, it was a toupee.  A good one, too, though she did not consider herself an expert on such things.
Pete gave a smile of recognition.  "Hello, Alice," he said.  "So good of you to come.  Mom told me the two of you still had lunch almost every week.  That was very kind of you."
Yes, Alice thought, I was the person closest to her.  They met every week, sometimes just taking a seat on the terrace and drinking tea Alice brought in a Thermos from home.  It was at one of these alfresco luncheons that Cecelia had said, "I always wanted to have a daughter.  Then, I realized, I do.  You are the daughter I wanted."  Those were the kindest words any friend had ever spoken.
Alice was tempted to ask after Clarice, but good manners prevailed.  If Pete wished to explain his wife's absence, it was his option to do so.  He said nothing further and so Alice moved down the line to the youngest son, Alex.
"Hello, Mrs. Beauchamp," Alex said.  It had been four decades since he was the teenager across the street.  He might be in his late fifties, but the habit of calling a neighbor by her formal name, even one just a decade and a half his senior, was still ingrained.  Alice thought it in good taste.
After Alice expressed her condolences, Alex introduced her to "my friend, Holly". If Alex was approaching sixty, Holly, at least, was over fifty; not one of those youthful, athletic women that older, successful men seemed to have on their arms.  Cecelia had alluded to her son's serial relationships.  She said she could never fully grasp that one of her children saw no need to wed and wondered if the lack of commitment was her fault.  To Alice, that Alex had placed Holly in the receiving line was curious for someone who otherwise seemed sensitive to proper protocol.
Alice gave a brief smile and greeting, and moved on to the line of grandchildren.  Only one greeted her with any warmth.  Marilyn, one of Pete and Clarice's children.  "Children", of course, was relative.  Marilyn was in her mid-thirties, already with a few wisps of grey in her hair.
Marilyn grasped Alice's hands tightly.  "I had hoped you would be here," she said.  "I was going to give you a call.  You had lunch regularly with Grandmother, didn't you?"
Alice nodded.  "About once a week."
Marilyn gave a small sigh.  "She thought the world of you.  When things quiet down here, can we speak privately for a few minutes?"
"Of course, dear," Alice said.  The way Marilyn had held Alice's hand made it clear that the conversation was not going to be a light one.
* * * * *
Paula was several people behind Alice.  She introduced herself as a "friend from the garden club" and so exchanged only brief words with most of the family.  Of the oldest son, though, she asked the question that had puzzled her since word went round of Cecelia's death: why was the wake being held here, at Cavendish Woods?
Rudy provided the answer.  "Mom had a lot of friends in the complex, and getting to a funeral home or a church would be difficult for them."
The answer seemed reasonable, though Paula recognized most of the wake-goers as Hardington residents.  She had seen the same group at Harry's funeral four months earlier.  That service has been held in the Unitarian Church in Hardington.
"We didn't see a notice for the funeral," Paula said.
Rudy nodded.  "Mom asked to be cremated.  We'll have a memorial service in the spring."
Paula passed into the main room, where a photo montage of Cecelia Davis' life played on a large-screen television.   A light classical piece played as background, largely drowned out by the din of people speaking.
She caught a strain of conversation of two men standing behind her.
"…supposed to have been a traditional declining contract, but Rudy says his paperwork makes reference to an eighty percent refund because of her age," the first man said.
"Even after eighteen months?  That's highly unusual," said the second man.
"She was already ninety-two when she moved in," the first man said.  "The actuarial tables were against her from the day they signed the agreement.  Rudy said he got a rider based on her age.  Cavendish says…"  The rest of his explanation was spoken low enough that Paula could not make out the words.
"…eight hundred thousand is a chunk of change," the first man said.
"They're counting on it," the second man responded.  "If they don't get it, watch out."
The second man did not explain who "they" were, though it sounded ominous.  Who are these men? Paula thought.  They were in dark suits and ties; to the best of her knowledge, they were not part of Hardington's business community.
Paula casually slipped her phone out of her purse and, while appearing to tap in a telephone number, she took their picture.
* * * * *
It was Alice who spotted Eleanor Strong and Jean Sullivan as soon as they came into the room.  Like Paula, they had been welcomed into the Hardington Garden Club by Cecelia when they ventured into their first meeting decades earlier.
And, like Paula and Alice, they had participated in "the job" at the Brookfield Fair the previous August, and, over the past two months, "the car thing" at Pokrovsky Motors.  It was, Eleanor had said at the private, celebratory dinner ten days earlier, "like having a secret identity."
"We don't dare tell anyone what we've done," Eleanor has said.  "We'd all go to jail for what we did in Brookfield, and we'd blow our chance to do it again if we talked about what we did to Al Pokrovsky.  Sometimes, it just doesn't seem fair."
The fifth participant at that dinner, Samantha Ayers, the insurance investigator who had deduced their role in the Brookfield Fair Heist and then recruited them to take down Pokrovsky, had said she understood because she, too, was sworn to secrecy.  "You are Wonder Woman times four," she told the group.  "Each of you is – what was Wonder Woman's secret identity? – Diana Prince until you hear the call."
"I was beginning to think of us as Charlie's Angels," Paula had said.
"No, we're still the Garden Club Gang," Eleanor said.  "Besides, I could never identify with Farrah Fawcett-Majors.  I never jiggled.  Not even a little.  At least not in the right places."
The three women hugged.  Alice indicated who was who in the receiving line.
Eleanor, though, pointed at an object in the back of the room.  "What's that?" she asked.
Alice looked around; her eyes fell on a painting in a gilt frame being admired by several people.  "That was Cecelia's pride and joy," she said.  "Henri Fantin-Latour.  White Roses.  She and Harry bought it when they were on vacation in France.  It was in their bedroom in Hardington; Cecelia brought it here when they moved; it was her reminder of home."
"It looks very expensive," Jean said.
"Not when they bought it, Alice said.  "Cecelia saw it in a gallery in Nice and said it cost less than a thousand dollars – not that a thousand dollars wasn't a lot of money in 1954 – and that Harry just said, 'happy anniversary'."
"How can you be so certain of the date?" Jean asked.
Alice nodded.  "Cecelia said they were filming To Catch a Thief in Nice and Cannes while they were there.  She saw Grace Kelly and Cary Grant several times.  I think the painting was as much a souvenir of seeing two movie stars as it was an anniversary present.  They certainly never bought anything that extravagant again."
"It's beautiful," Eleanor said.  "I would have loved to have something like that."
Eleanor was poised to say more when Paula joined them.  Their friend seemed quite excited and barely said hello before asking the group to look at two men who were now standing by a buffet table, eating shrimp.
"Do any of you know either of those two men?" Paula asked.
Each of the women peered and, one by one, shook their heads.
"I caught a fragment of a conversation," Paula said in a low voice.  "They were talking about Cecelia and Rudy and money.  Please don't ask me to explain, but I didn't like the tone of that conversation.  I'm asking a lot, but could we take turns staying by them to see if they pick up that conversation?"
"I remember your asking us to rob a fair," Eleanor said.  "This sounds like child's play compared to that.  I don't really know the family, so I'll skip the receiving line and take the first shift."  And, with that, Eleanor walked over to the buffet table, picked up a cracker, placed a wedge of brie on it, and stood within earshot of the two men.
The two men took no notice of Eleanor, but neither did they appear to be talking.  From twenty feet away, Jean said to Paula, "I used to resent being invisible.  Now, I'm beginning to love it."
* * * * *
A half an hour later, Marilyn – Alice was not certain of the granddaughter's married name – asked if they could speak in a private place.  An adjacent meeting room was unoccupied.  Marilyn closed the door and found two chairs.
"My grandmother said you and she were very close friends," Marilyn said. She was a striking and confident-looking woman.  Her hair was glossy black and worn shoulder length.  She wore a charcoal-color suit and a dark blue blouse.
"We used to sit in her kitchen and talk for hours," Alice said, uncertain how much detail to provide.  "When she and Harry moved here, I made a point of coming out at least once a week."
"She trusted you.  She could be completely honest with you," Marilyn said.  It was not phrased as a question, but seemed to call for a response.
"I believe so," Alice replied.
"Tell me about the last few times you saw her.  What did she talk about?"
Alice knew that she could, at this point, have asked the purpose of this young lady's questions, but she felt that it was not yet the time to do so. "She still missed Harry every day, but she accepted the loss," Alice said.  "She had two years to come to terms with the reality that his life would be foreshortened because of the stroke.  But she also knew that it did not mean that her life was over.  She was looking forward to seeing her family."
"Did she have any concerns about her health?"
Alice thought for a moment.  "She expressed some surprise.  She said, 'I am continually amazed that I am in my nineties.  All around me are people ten years younger and they are in poor health.'  Cecelia's mind was perfectly clear; she walked without a cane.  She took care of herself."
Marilyn nodded as Alice spoke, absorbing her words.  "Was there anything troubling her?"
"If there was anything," Alice replied, "it was that she was here.  As long as Harry needed care, she recognized the need to be in Cavendish Woods or someplace like it.  But she disliked everything about the environment, and especially about being billed for everything…"
Marilyn broke in.  "She and I also had that conversation several times.  One of the staff would call her and say, 'Hey, we're going to the mall; would you like to go?'  She would go, and then learn that she had been billed thirty-five dollars for 'transportation'.  She hated being nickeled and dimed at every turn."
Alice added, "She told me she wanted to move.  About three months ago, I moved into Olde Village Square in Hardington.  Cecelia said she could live there, hire a housekeeper, walk into town, take taxis for everything else, and still save a bundle of money."
Marilyn listened, nodding.  Then she asked, in a soft voice, "Do you have any reason to believe that my grandmother's death was not of natural causes?