The story behind 'Deal Killer'
Until I started writing, I had spent my life in the corporate world and came to know it well. The last decade-plus was spent around investment bankers and I came to know them, also, quite well. Maybe too well. And, what I can say about most novels that attempt to weave plots around corporate intrigue is… they're not very believable.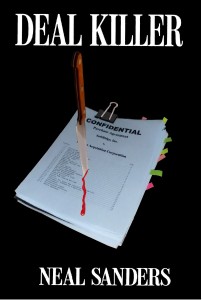 I wanted to write a work of suspense set inside a corporation that was in the process of being acquired. I wanted the plot to be credible and the 'crime' to be plausible. You can take my word for it that what happens in Deal Killer is entirely credible. In fact, I'd be surprised if it hasn't happened.
I also wanted a compelling protagonist; not a superman who instantly sees the Big Picture but, rather, someone who starts with a uncomfortable feeling and works it out from there. Lynn Kowalchuk is such a character: I've sat across the table from young investment bankers like her many times. I also wanted a law enforcement officer who was just learning the ropes; who would make – and recover – from mistakes. Lou Bergeron is such a cop. And, any good rookie cop needs a mentor who has seen too much. Claude Johnson fits that description.
Finally, I wanted a villain who could exist in the real world; someone who thinks they're smarter than everyone else in the room, and who finds out that making such an assumption can have disastrous results. I've worked around such people more than I care to admit.
Here are first few chapters:
The story in brief
Smart, young investment banker Lynn Kowalchuk has been sent by her Wall Street employer to help wrap up the routine acquisition of SoftRidge, a failing New England company, by its larger rival, Pericles. One of the SoftRidge executives, however, has a different agenda: an ingenious scheme to divert millions of dollars to himself upon completion of the sale. From the first day of final due diligence, he recognizes Lynn as the one person perceptive enough to spot the scam that has eluded the lawyers and accountants involved in the acquisition. He's going to keep Lynn from uncovering his plan by any means necessary. When Lynn's car is run off the road, she realizes that there's nothing routine about this assignment.
Many things about this acquisition make Lynn uneasy. The CEO of Pericles displays a vindictiveness toward SoftRidge that tells her 'it's just business' doesn't apply to this deal. Some managers don't want to cooperate even though it's in their interest to do so. Lynn senses something is wrong from the first day, but can't put her finger on anything specific.
Lynn's ally is state trooper Lou Bergeron, who takes seriously her belief that what happened to her car was no accident. By week's end, Lynn and Lou will be working as a team: she to uncover the hidden scheme and he to figure out the identity of the SoftRidge executive. But other people are on the executive's trail, too, and they have their own scores to settle with him. The investment banker and the state trooper will find a strong attraction to one another, and Lynn will discover that perhaps she's not the loner she's always thought she was.
DEAL KILLER
Prologue
From the Boston Globe, Thursday, September 13
Pericles Will Acquire Struggling SoftRidge in $200 Million Deal
Nashua's SoftRidge Inc. agreed yesterday to accept a $200 million offer from Boston-based Pericles Corp. in a deal that analysts say will cement Pericles' dominance in what was once a highly competitive market.
SoftRidge has struggled since the death of its founder last year, and faced an uncertain future with dwindling cash.  In April, SoftRidge announced it had retained Highsmith & Co. to explore the sale of the company.  SoftRidge stock, which traded at more that $40 per share as recently as 2007, dipped below $7 earlier this month.  Pericles will pay $9.50 per share, a 10% premium to SoftRidge's closing price yesterday of $8.60.
"We believe that an acquisition by Pericles represents the best reasonable outcome for shareholders, employees and vendors," SoftRidge Chairman and interim CEO Lawrence Driscoll said in a prepared statement.  "We evaluated multiple offers; the one from Pericles was both financially satisfactory and represented a certainty of closing within the time frame set by the Board."
Pericles Chairman and CEO Ross Maynard called the acquisition "a natural consolidation that benefits the industry."
"For more than a year, SoftRidge customers have not known whether the products they ordered would be delivered," Maynard said in a telephone interview.  "I admire those customers' loyalty to SoftRidge, but the company's options were increasingly restricted by its finances."
Founded by Peter Kincaid in 1983, SoftRidge was once touted as southern New Hampshire's answer to Route 128.  Analyst Jim Borgmann of Goldman Sachs notes that as recently as 2002, Pericles and SoftRidge were of comparable size, competing vigorously for the same customers.
"Kincaid made a number of acquisitions that didn't pan out," Borgmann said.  "The company went into the recession with an inadequate cash reserve.  Their technology has always been first-rate, but customers demanded a strong balance sheet.  (Ross) Maynard pounded on SoftRidge's financial weakness at every opportunity.  Eventually, suppliers got frightened."
Maynard said he expects to close the acquisition quickly.  "Absent any deal killers, we expect to complete the transaction prior to the end of our third quarter."
1.
Monday, September 17
Lynn stared at the plate of donuts in the semidarkness of the room.  Especially at the chocolate one.  Its dark brown glaze dripping down the side glistened over the deep, rich cocoa-colored base.
She could ignore the jelly-filled fat pills, the mushy donuts with pink frosting, and the ultra-sweet ones covered with shredded coconut.  Plain crullers were more alluring, though she had the will power to resist their temptation.  But chocolate glazed ones were her regular antidote to boredom.  The chocolate ones were going to be a problem.
A voice droned on from the head of the conference table.  The number of sales offices.  The aggregate square footage of those sales offices.  The territories served by those sales offices and their staffing levels.  The guy is reading his PowerPoint slide, Lynn thought.  No commentary, no personal asides.  Not a scintilla of new information.  He's just reading the damned thing in little more than a monotone.  He's wasting everyone's time.
It was a waste of time because all of the data he was citing was in the Information Memorandum – called the 'IM' in shorthand – given to Lynn on Friday and in front of everyone right now.  It was the job of each person in the room to have read the document cover to cover.  She had read it several times over the weekend.  Her copy of the IM was rife with yellow and pink highlighter pen marks, with sticky notes on the three dozen pages that raised the most flags.  Lynn came to these meetings well prepared.
The slide changed.  The speaker now drilled down into the staffing levels of the sales offices and offered an interesting breakdown between application specialists and quota-carrying salespeople, with a third column for 'admin' people.  'Admins' meant secretaries and receptionists.  Lynn did the quick mental calculation based on the figures in the table that the average salary of the 'admins' – 98% of whom would be women – was less than a third of the quota-carrying salespeople – 85% of whom would be men.  In her experience, the admins closed at least as many deals as the sales professionals, yet had perhaps a one-in-a-billion shot of moving from behind the computers in their Steelcase cubicles and out into the quota-carrying world where the money was made.
Lynn was giving in to the urge to eat the glazed chocolate donut when a hand reached in front of her in the semi-darkness and eased it out of the pile.  The hand headed directly toward a mouth and a third of the donut disappeared in a single bite.  The hand and the mouth belonged to one of the lawyers up from Boston; a guy who looked to be about thirty.  He was too young to be a partner so he was probably a senior associate, the equivalent of Andy, her boss.  She looked for a glint of a wedding ring and saw one.  They were always married.  Not that he would be interested in her even if he wasn't.
At 10 a.m. on a mid-September Monday morning, Lynn Kowalchuk, age 27 and a third-year investment banking associate with the New York firm of Clarenden Brothers, was at the headquarters of SoftRidge, Inc.  The facility was a non-descript, single-story structure in an industrial park on the outskirts of Nashua, New Hampshire, a picturesque small city 45 miles northwest of Boston.  The building, actually the first bay of a larger structure housing three other tenants, was identifiable as being the home of the corporation only because of a small sign out on Spit Brook Road.  SoftRidge did not put its money into self-promotion.
Eighteen people sat around the table in the drab conference room.  A strict protocol was being observed because this was the due diligence kick-off meeting intended to lead to the acquisition of SoftRidge by its much larger rival, Pericles.  Those representing Pericles – the investment bankers, accountants and attorneys – sat on one side of the table, those representing SoftRidge on the other.  Company management was arrayed on either side nearest the screen so they could stand up and indicate things in the PowerPoint presentation with their red laser pointers.  The senior-most SoftRidge executive at this session occupied the end of the table, a symbolic link between buyer and seller.
Lynn was on the buyer's side of the table.  As one of three investment bankers, she sat at the back; the two lawyers were in the middle, the three accountants were up front with the screen looming just a few feet from their faces.
The voice droned on, now segmenting the marketing organization by horizontal and vertical markets served.  Lynn's eyes, now better adjusted to the darkness and relieved of temptation, opened the IM to one of her yellow tabs corresponding to vertical markets.  The tab had three exclamation marks.  She wanted to see if the wording buried in the dry language of the Information Memorandum was mirrored in the words on the slide.
* * * * *
He looked around the darkened room, judging the situation, looking for things that could upset his plan.  The moron Fuller had moved on from sales to marketing,  listing 'SWOTs', which he felt compelled to explain – to a room full of MBAs  – meant "strengths, weaknesses, opportunities and threats".
All right, then, SWOTs it is, he thought.  Strengths: I'm smarter than anyone in this room and time is on my side.  Pericles wants to close the deal by the end of the quarter so they've got just two weeks for final due diligence and contract signing.
Weaknesses?  The other members of his team, to be sure, but that could also be an opportunity.  For years, the Pericles people had made no secret of their disdain for SoftRidge.  SoftRidge was simply a thorn in their side.  An annoyance.  The guys whose products their customers threatened to buy unless Pericles came down in price to meet SoftRidge's quote.  The existence of SoftRidge meant Pericles was forced to discount their product by as much as fifteen percent.  Following the successful acquisition of SoftRidge, those discounts would disappear and those fifteen percentage points of margin would immediately be added back to Pericles' operating profits.
If Fuller, Morton, and Li have any brains at all, they know they're short-timers the minute the deal gets done, he thought.  The other managers were praying for one- and two-year severance packages.  They weren't going to get them.  His own guess was that Pericles would offer three months plus accrued vacation, period.  That's probably why Fuller is up there droning like a thoroughly defeated hound dog.  His options are underwater.  He doesn't stand a chance in hell of landing a six-figure sales and marketing executive position anywhere else.  Tough break, he thought.
Opportunities.  Oh, yeah, there are opportunities.  He would scream with outrage when he was offered three months severance and a consulting option in return for signing a non-compete agreement. He would demand more consideration.  He would say that a non-compete agreement was a worthless piece of paper in New Hampshire and that he would be on the phone the next day to three other companies, offering his services to beat Pericles at their own game.  And his counterpart from Pericles would smile and say, 'Well, why don't you do that?'
And he would act defeated and swear vengeance.  Except that the vengeance would already be complete.  Pericles was going to pay him a tax-free $4.2 million bonus, and they didn't know a damn thing about it.
Threats.  If there was a threat, it was on the other side of this table. Accountants, lawyers and investment bankers, all hired by Pericles to get through this, the final due diligence.  He dismissed the two accountants.  Two junior woodchucks from one of the 'big four' firms, neither one older than 25.  Their job was to match invoices to purchase orders and check them against the master ledger.  Fine.  Let them do that.  They weren't looking for or going to find what he had done.  This was out of their league.  When the time came, Pericles would issue checks and wire transfers and he would be home free, a wealthy man.
He looked at the lawyers more carefully.  A man in his mid-thirties and a woman in her mid-20s.  The guy was a little old for this kind of work.  He scanned down the All Hands list in front of him.  Frank Deruda and Fay Collins.  Frankie boy was sneaking peeks at his smartphone instead of paying attention to the presentation.  The white-shoe New York firm of Ellis and Reid wouldn't spring for a full-blown partner for a lousy $200 million deal, so Frankie boy was probably some kind of a perpetual associate. Cross him off of the threat list.  Frank Deruda was probably looking for a job as someone's company counsel because his career as a hot shot lawyer certainly looked like it was going nowhere.
Fay Collins was only slightly more problematical.  She seemed to be listening to Fuller's moronic presentation, so she probably had only skimmed the IM, so that was good.  But she was taking notes, and that was bad.  In theory, the lawyers were there strictly to tie up loose ends.  Make certain that distributors had valid contracts and that no employee had planted a side deal in among the human resources files.  The lawyers made certain that no customer had been given special consideration as part of a sale, that sort of thing.  He had covered his tracks well.  He would keep an eye on Fay, but thought the risk low.
Which left the investment bankers.  Those on his side of the table were a joke.  Two were fresh-faced junior woodchucks without a clue of why they were there, except that they were billing hours and getting their meals paid.  Their nominal boss was a blithering idiot named Josh Tilighman who preened in front of every reflective surface.  Tilighman had been part of the team that pitched his firm's services to SoftRidge and created the Information Memorandum.  He questioned none of the numbers with which he was presented and made not the slightest attempt to grasp the technology.
Pericles' three investment bankers were the single remaining threat.   Andrew Greenglass, Lynn Kowalchuk, and Deborah Fowler, according to the All Hands list.  Andrew Greenglass he dismissed immediately.  The guy had been thumbing out text messages since he sat down at the table 45 minutes earlier and was paying absolutely no attention to the presentation.  He was the 'partner wannabe' and would likely disappear after this meeting.  His next appearance would be at the closing dinner where he would drink too much and tell lewd jokes.
That left the two women.  He figured the blonde for Deborah Fowler.  Blondes always had names like that.  Deborah Fowler looked to be about 26 and seemed intent on making certain her hair was perfect.  She played with it constantly, moving it off of her shoulders to achieve just the right alluring balance.
She was strikingly attractive, which meant she had been hired from out of the middle ranks of some second-tier business school by a partner who hoped against hope that Ms. Fowler would hop into bed with him to show her appreciation for being hired by the esteemed New York investment banking firm of Clarenden Brothers.  The spine of her Information Memorandum was uncreased, the pad of paper in front of her was untouched.
She had left the top two buttons of her crisp white blouse unbuttoned, the better of show off the lacy bow on the top of her C-cup bra. Deborah Fowler was not going to be a problem.  Deborah Fowler was here to posture, probably pouting that she had to spend two weeks in the Nowhere Land that was anywhere outside of New York City.
Which left the Kowalchuk woman.  What did that name make her?  Polish?  Lynn looked to be in her late twenties.  Probably three, maybe four years out of B-school if she had gone straight to graduate school with her four-year degree.  If there was a threat, she was it.  Her IM was filled with yellow stickies and multiple pages were dog-eared.  She was filling the second page of her pad with notes, but the notes were from her reading of the memorandum, not from Fuller's ludicrous presentation.
Worst, this Polish princess had to have been hired for her smarts, because it wasn't for looks.  She had short, brown hair which fell, limp and styleless, above the collar of a blue Oxford shirt.  The roundness of her face left him with the impression she was carrying a few extra pounds.  Large, black-framed glasses made her look owlish.  She wasn't ugly, she was just… plain.  While Deborah Fowler's breasts pushed magnificently against her blouse, creating a little peek-a-boo gap between buttons that added to her allure, Lynn Kowalchuk's blouse showed only an insignificant rounding.  While Deborah Fowler sat erect in her chair, Limp-haired Lynn hunched over her notepad.
Investment bankers had no fixed role in this final due diligence, which was itself a problem.  In Boston, Ellis and Reid was drafting a final contract that fleshed out the letter of intent that Pericles had offered and SoftRidge had accepted.  That final contract would have dozens of attachments, each one in the form of an exhibit.
Most exhibits were lists of things – inventory, customers, accounts receivable – that Pericles was buying or, in some cases, not buying.  The lawyers and the accountants assembled and checked the exhibits.  The bankers' job was to check the whole package, looking for things that weren't 'right', using whatever sixth sense they possessed to ferret out anything that went against their definition of 'normal'.
That was where the problem lay.  His fourteen phantom accounts were owed an aggregate $4.2 million.  Unless someone went looking and found a reason to withhold payment, Pericles would write checks or transfer funds when the deal was completed.  And with the clock ticking toward the end of the quarter, and an entire day wasted with this kickoff meeting, there would be precious little time for such exploration.
But all the notes she was taking bothered him.  Plain, limp-haired Lynn Kowalchuk bothered him.  He would have to find things to keep her busy and out of mischief.  He would keep a close eye on her.  Befriend her, perhaps.  Bed her, if necessary.  And if she started to get close, if she began asking the wrong questions, he would do whatever was necessary to preserve his tax-free $4.2 million bonus.  Because I deserve that bonus and intend to retire on it, he thought.
He heard his name being called.  The idiot Fuller had gotten through sales and marketing in under an hour.  He ought to have taken two.  He rose, adjusted his suit jacket, and walked to the front of the room, laser pointer in hand.  Ready to do his part to run out the clock.
Ready, if necessary, to kill to get the deal done.
2.
"Of course, management is toast."  Andy Greenglass waved his knife in the air for effect.  "There's an animosity between Pericles and SoftRidge that goes back two decades, and you better believe that it's personal.  Pericles' CEO is on the record that he doesn't want any member of SoftRidge's management around the day after the acquisition.  Anyone at SoftRidge who thinks differently is deluding himself."
Lynn poked at her salad, trying to remember what had caused her to order such a disaster.  Iceberg lettuce, shredded carrots, and tomatoes that were so preposterously unripe and lacking in flavor that they may as well have been made of cardboard.  There had to be fifty thousand garden-ripened tomatoes within a five mile radius of this restaurant.  Why couldn't this pathetic restaurant buy one?  From the corner of her eye she saw Deb, too, push clumps of lettuce back and forth across her plate, not eating.
Andy stabbed at the air again, skewering a member of SoftRidge's management as he did a piece of his steak.  "Ross Maynard didn't even want to pay out accrued vacation.  He said the whole company had been on vacation for the past two years.  He also wanted to fire the whole work force.  Mitch had to talk him through the WARN Act consequences to get him to relent.  But mark my words: six months from the acquisition date, every trace of SoftRidge is going to have disappeared.  And I'll bet any of you fifty bucks that Maynard drops every member of management to two weeks severance as a last-minute contract demand.  And another fifty bucks says that SoftRidge's Board will cave."
Despite the presence of friendly faces, Lynn felt herself beginning to tense up.  Day One had been a disaster.  SoftRidge had insisted on giving everyone a full corporate presentation and had paraded eight managers through the meeting.  The plant tour had consumed two hours because someone decided that 'the team' needed to understand what they were buying.  Each step had been explained in excruciating detail.
Then, at 6 p.m., the word had been passed that there would be a group dinner, the better to 'get to know one another'.  How well did a bunch of hired hands – none of whom would ever see anyone from SoftRidge again after this assignment – need to get to know the company?  The lawyers and accountants had eagerly jumped at the chance for a fancy, free meal.  Andy had begged off, which gave Lynn the opportunity to do the same.  Left with no one she knew and no one she wanted to get to know better, Deb had also declined.
And so they were here at a chain restaurant that could have been a Bertucci's or an Olive Garden for all the difference it made, eating iceberg lettuce salads topped with tasteless tomatoes.
Lynn longed for the comfort of take-out Chinese in front of her computer or a television in her hotel room.  She had never really felt at ease in groups, never cared for the forced camaraderie of a group dinner.  She had always been a loner and seemed destined to remain one.
The impersonal nature of investment banking due diligence suited her.  She would get an assignment and pack her suitcase, not knowing for certain if she would be gone two weeks or two months.  In three years, she had been part of forty-two transactions in seventeen states.  Without ever having asked her why it was so, Andy knew that she preferred out-of-town assignments over those in or around New York, and he inquired only whether she would prefer Atlanta or Portland, Denver or San Francisco.
She did not know herself why she was such a loner.  Had she subjected the issue to rigorous analysis, she could have written out a page full of points, starting with being an only child who had never been required to socialize with siblings.  She had been continually uprooted as her father's department store career progressed, working through a progression of Midwestern cities.  Her near-perfect SATs had given her access to almost any elite college in the country, but she chose the anonymity of being one of 3700 incoming freshmen on the 30,000-student campus of U.C. Berkeley.
Only for graduate school did she choose a small school, Dartmouth's highly regarded Amos Tuck School of Business, a hundred miles north of where she now sat.  Tuck accepted fewer than 250 students per year.  There, for the first time in her life, she felt herself under scrutiny by professors and classmates and was profoundly uncomfortable.
She had never had a social life, never felt a need to be fashionable.  She missed these things in a vague sort of way.  In an airport or a mall in a far-off city, she would buy romance novels and read them in one sitting, throwing them away in a lobby waste receptacle rather than leaving them for a maid to find in her room.
She lived in a two-bedroom Manhattan apartment with three roommates she barely knew and who loved it that she was seldom home.  Her clothes came from Land's End and L.L. Bean catalogs and her wardrobe was little more than a closet full of blue shirts, sweatshirts, and all-season slacks.  When she got her hair cut, it was at an inexpensive, impersonal chain in whatever city she was working, and her bob hair style had not varied since her undergraduate days.  With such low living expenses, and with the competitive salaries and bonuses paid by investment banking firms, she had already accumulated several hundred thousand dollars in her brokerage account.
She knew she was not beautiful.  She knew Deb Fowler was.  This morning, she had seen every pair of male eyes in the room appreciatively take in Deb's face and body, just as they had done in the half-dozen projects the two of them had worked on in the preceding eighteen months.  If Deb ever tired of investment banking as a career and elect to throw away that top-of-her-class Sloan School of Management education, all she would have to do was simply pick out the wealthiest and best looking man then in the room and become the beautiful, stay-at-home wife of some corporation executive or law firm partner.  Deb had never said anything like that, but the look in men's eyes made it depressingly likely.  Lynn had seen those same male eyes give her a quick, dismissive glance and then go back for a second helping of Deb's blonde hair, perfect face and wonderful figure.
Lynn had attracted the attention of a handful of men, mostly during her four years at Berkeley.  They had seen past her plainness and glimpsed something much more attractive inside.  A few of those relationships had evolved to become sexual.  But for the most part she had not been ready.  By and large she had held men at a distance until they either accepted the role of male buddy or else, frustrated, drifted away.
However, at 27, Lynn felt she was on the cusp of a change.  Part of the change was forced on her by time.  Clarenden Brothers hired only from top schools and mediocre performers were quickly weeded out of each year's hires.  But, as at all investment banking firms, Clarenden Brothers' associates either became vice presidents after four years or else they were invited to seek opportunities elsewhere.  It was up or out.
The firm paid very well, but being a 'deal grunt' brought no new business into Clarenden's coffers, and new deals were the lifeblood of the investment banking world.  Lynn had earned the highest evaluations possible at each review.  Within a year she would be asked to start managing projects or, worse, pitching them to prospective customers, in order to justify her rising salary and year-end bonus.
Part of the change was in herself.  She had matured physically and emotionally since getting her MBA three years earlier.  She knew her plainness was partly cosmetic, the ten extra pounds a function of too much Chinese takeout in distant cities and towns.  On their last deal in Columbia, South Carolina, Deb had lured her into a mall department store's cosmetics area and supervised a 45-minute makeover.  The effect was dramatic, if temporary.  "You give me an afternoon in a competent salon with a stylist and there could be a whole new you," Deb had said.
But Lynn had bought none of the cosmetics and had demurred on the hair styling.  The next morning, she had shown up for due diligence in her trademark blue Oxford shirt and khaki slacks, her hair again covering most of her face.
"Coward," Deb had whispered.  And then mercifully said nothing else about the matter.  But Lynn had memorized the product names and how they had been applied.  She had paid attention.  She just wasn't ready.  But during the rest of that South Carolina assignment, Lynn had found herself joining Deb every morning in the hotel gym.
The three investment bankers finished their meal sharing the kinds of tales that professionals who have worked together on multiple projects tell one another.  Deb dissected the Highsmith & Co. bankers representing SoftRidge, saying they seemed more preoccupied with getting the right sandwiches for lunch than with speedily closing the deal.  She rolled her eyes and said that the Highsmith vice president on the deal had spent much of the day leering at her.  Lynn voiced her concern that the first day had been a waste of time.
Andy dismissed her caution.  "This one's a slam-dunk," he said, confidently.  "I say we're out of here in a week, max."
* * * * *
He looked around the table and motioned to the waiter for another two bottles of wine.  Yes, this was the right decision, he thought.  The accountants for both sides were already tipsy.  They would be late tomorrow and he would have to put on a display of annoyance at their slow work and inability to focus on the mundane detail work that was needed to get the contract exhibits in order.  The idiot Fuller was hitting on the attractive attorney – Fay something – with at least a modicum of success.   The male attorney was nodding off.
SoftRidge's three investment bankers were also eyeing the attractive attorney even as they fortified their courage with more wine.  The senior-most of them, the twit Tilighman, attempted to impress everyone with tales of his new Porsche and his access to box seats at Red Sox games.  He hadn't worried much about his company's choice of investment bankers before today.  Based on tonight's performance, he dismissed any lingering doubt that Highsmith & Co. would be a problem.
His concern was that the Clarenden Brothers bankers had begged off.  That was a bad sign.  Andy Greenglass had told him he could stay for only part of tomorrow.  That was good.  But the two junior woodchuck bankers had shown increasing impatience with the process as the day progressed.  Debby Big Tits has surprised him by interrupting the presentations at multiple points with insightful questions.  The Information Memorandum covers may not have been creased, but there was some kind of intuitive understanding of the business.
And Limp-haired Lynn had just kept writing away, making continuing notes from the Memorandum and the draft contract.  She had asked no questions because she knew the day-long presentation offered no new information.  She was simply using the time to organize her own inquiries.  She was going to be trouble, he could tell.
He had a choice to make.  He could wait and see if someone raised unusual questions about the names on the accounts and then act, or he could line up assistance now and direct that person to act immediately, even if those questions hadn't yet been raised.
He had never killed anyone and he did not look forward to the experience.  It was a task he would prefer to delegate, provided the price was not unreasonable, that he could have some guarantee of results, and be certain that his anonymity was ensured.  What he had read in newspapers about hiring hit men was that there was an excellent chance that the person you hired was an undercover police officer.  He had perused the internet on the subject the past few weeks – using computers in public places rather than his own – and had gotten some useful ideas.  And, the more he thought about it, the more he came to understand that he needed a backup plan.
He now had just such a plan in place, and he was comfortable that he was not dealing with the police or police informants.  He had gone to school with Joey Gavrilles, though Joey had likely not graduated.  He had even dated Joey's sister for a time.  He had gone on to college while Joey embarked on a life of petty crime.  He had run into Joey at a Home Depot a month earlier – a serendipitous meeting that had given him confidence that this thing was meant to be.  Later, over beers, he had asked Joey for the name of someone who might be able to 'take someone out of the picture' in the event of a problem.
He had offered to pay for such information, and Joey had said that he had someone in mind – a middleman who knew lots of people who did such work.  But Joey had also said not to ask him for the name of the middleman – and it would be a telephone number and not a specific name – until he knew he needed it.  Joey had further advised him to buy one of those disposable cell phones that truckers used because, when he called that number, it had to be untraceable.
The advice had continued: when you pay for that service, it will need to be in cash and in twenty and fifty dollar bills, so he needed to start stockpiling that cash now so as not to arouse suspicion.  If and when he contacted Joey, it would not be at home but, rather, through a bar, and he would need to use that same untraceable phone.  Joey's fee, payable upon receipt of the phone number, would be a thousand dollars.
He had come away from that chance meeting buoyed by the good fortune that he had not completely distanced himself in school from people like Joey Gavrilles.  As Joey began to miss school days, with rumors that the absences were the result of run-ins with the law, the respectable kids began avoiding Joey.  But he had stayed friendly.  Now, that friendship had paid its greatest dividend.
Around the table, twelve people made fools of themselves, ensuring that the second day of due diligence would be no more productive than the first.  He smiled.  With one possible exception, everything is perfect.