How to Murder Your Contractor
Some books are much easier to write than others.  Some novels require monumental research to achieve verisimilitude; others flow naturally from first-hand observation or memory.  Some characters are laboriously constructed from whole cloth; others are plucked, intact, from the people we meet in everyday life.  This was an easy book to write.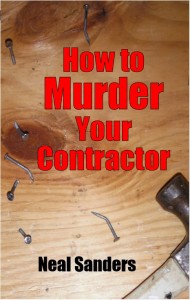 My wife, Betty, and I built a new home in 2014 and 2015.  Ours was a case of selling a much larger house and downsizing to a 'retirement dream home' of our own design.  Over an eighteen-month period, we discovered what goes on in the second decade of the 21st Century in real estate: choosing a Realtor, 'staging' a home, going through multiple open houses.  We also discovered the joys and heartaches of building a home from scratch, including having to tear down an existing home because vacant land is non-existent in suburban Boston.  Too many of the absurd elements in How to Murder Your Contractor were drawn from our experience building that home, including the notion that our 'local' gas utility believes that Eastern Massachusetts freezes solid around Halloween.
I never had any idea that contractors were such a lightning rod until I began mentioning the proposed title of this book.  Without fail, the immediate reaction from those with whom I spoke was, "Let me tell you what happened to me…"  I am pleased to say that I was able to incorporate a number of those horror stories into my plot.
'How to Murder Your Contractor' tells the tale of Anne Evans Carlton, a very determined woman whose simple goal is to serve Thanksgiving dinner in her new 'dream retirement home'.  What is standing in her way is Joey McCoy, possibly the worst contractor ever to wear a tool belt, buy who is the only person who has agreed to build the small house she and her husband want.  Joey's goal is just as simple: to stretch out the job as long as possible, and to invent a never-ending series of 'up-charges' to inflate the cost of the project.
Joey has never dealt with someone like Anne.  He hasn't planned on Anne's determination or Matt's legal prowess.  Neither has he taken into account Anne's unusual circle of friends.  They're multi-day Jeopardy winners, Master Gardeners, and equestrian jumping champions.  They bring an arsenal of ideas – many of them deadly – to the task of either getting Joey to do his job right, or to get Joey out of the way once and for all.
Here are the first two chapters:
—————————————————————-
Chapter One
This is a story about avarice and greed.  It is also about blatant dishonesty, casual adultery, astonishing incompetence and teeth-gnashing sloth.  It will encompass a sufficient number of the seven deadly sins to satisfy both King Solomon and Evagrius Ponticus.  I might add that this story will touch on snow farms and dwell on hot compost.
Mostly, though, this is a story about Joey McCoy, the worst excuse for a contractor ever to wear a tool belt.  Joey thought that building my house was his ticket to unearned riches.  He was wrong.  Unforgivably wrong.
Where is Joey now?  Let's just say that I was Joey's final customer.  I can make that statement with authority.
I would start at the beginning except that I'm not certain what constitutes 'the beginning'.  Maybe it was six years ago when our youngest, Noah, set off for college on the other side of the continent.  That's when I first realized our house was too big and had been so for many years.  Perhaps it was three years ago when my husband, Matt, accepted that I was going to 'downsize' with or without him and we began planning our new, smaller 'dream' home.
In either case, the decision was made irrevocable by two events.  First, upon Noah's graduation, he sought and accepted a job in Seattle, just over 3000 miles distant.  At his graduation, he gently told us that there was no further reason to keep a bedroom just for him.  Second, our intrepid marine biologist daughter, Kate, got married with a minimum of fanfare and almost immediately purchased a home near her Woods Hole lab.  There would be no boomerang generation under our roof.
Or, 'the beginning' could be the day when Joey McCoy came swaggering into my life.
Joey McCoy.  Let me start with a question:  If your parents name you 'Joseph', at what age are you no longer a 'Joey'?  In my view – and it is shared by almost everyone whom I have asked – 'Joey' becomes 'Joe' by thirteen, where it can stay for the rest of your life or come full circle to 'Joseph' if you are named CEO of an especially stodgy Fortune 500 company.
But Joey McCoy was fifty years old when he first handed me his business card.  The adolescent nickname still appended to a purportedly mature man ought to have set off alarm bells…
I'm sorry, I'm being rude.  Allow me to introduce myself.  My name is Anne Evans Carlton.
Anne Evans Carlton.  It's interesting how an entire generation of women who would never put up with being "Mrs. Matthew Carlton" managed to marry and became comfortable folding up and packing away their 'maiden' names into some dusty, never-used storage closet.  Then, starting about ten years ago, it became not just fashionable but de rigueur to append the surname with which they were born.  Some attribute it to Hillary Rodham Clinton.  That's an interesting notion, but my own theory is that in the era of Facebook, women suddenly resurrected it by necessity or choice.  Through social media, they searched for and reconnected with their childhood playmates, high school classmates and college roommates, none of whom would have ever heard of 'Carlton'.
I, on the other hand, have weightlessly carried those three names for 26 years.  I'm proud of my husband's career, but I am also my own person and have my own accomplishments.  More about that later.
My husband, Matt, is an attorney.  'Lawyer' is for lesser mortals.  Matt knows more about contract law than Charles W. Kingsfield, Jr. and his specialty is the biotechnology industry, where his name is spoken in hushed, reverential tones.  His skills are in continuous demand with the result that I see him without work interruption for fewer than four or five days in any given month.  Oh, he comes home every evening on the 6:36 but will disappear into his den/office until sometime after ten.  He also travels internationally, especially to Switzerland and Germany.  He has enough miles on SwissAir and Lufthansa to have a plane named after him.  Possibly an airport.
When, three years ago, Matt realized I wasn't going to let the subject of a smaller house drop, he sighed deeply and asked what I had in mind.  Matt also specializes in sighing deeply.  His sigh means, "This isn't worth fighting about.  We'll do it your way.  But I reserve the option to resent it later."  He puts a lot into a sigh.
I told him I wanted to stay in Hardington.  It's the Boston suburb we've lived in since Matt got his first performance bonus four years after we were married.  We went from a little house to a not-so-little house to what I call our 'starter castle' with fourteen rooms.  We use four of them, but I have to clean all fourteen.
I like Hardington because it's a classic New England village with farm fields on its periphery (Trustees of Reservations properties, actually, but they look like farm fields), yet it is just eighteen miles from the Financial District and has express commuter rail service.  It has one of the best school systems in the state (though that's no longer a selling point for us).  I especially like it because Hardington lacks the hoity-toity cachet of Wellesley or Weston.  I have no desire to tell someone where I live and immediately see the thought bubble with the words 'rich snob' form over their head.
In sighing, Matt also left much of the work of actually finding a house to me.  And, by 'much' I mean all.  Find a Realtor, find a house, establish a budget, sell our house, move our belongings.  If I needed Matt for something, he would be in his den/office, probably speaking Biotechnology Contract German.  He would look up and, with a pained expression, point to the phone: the universal spouse sign language for 'please figure it out for yourself'.
Wait.  I just re-read what I wrote.  Let me make it clear:  I love Matt.  He is my soul mate.  He cherishes me.  He just gets… wrapped up in his work.  A lot.
For a year I looked at dozens of reasonably priced 'not so big' houses that came on the market, trying to assess what it would take to make it perfect.  And, for a year I came up empty-handed.  There came a time when I finally realized that our perfect home was not a renovation project: it was something we would build.
I sat down with my Realtor and asked about vacant land.  She laughed.  "There isn't any vacant land," she explained.
* * * * *
"She" is Alexis Hoyt.  Alexis is, without question, the most dedicated and hardest working broker on the face of the earth.  Hers is also the most ubiquitous face in Hardington.  She's a tall, willowy blonde with hair so long and straight she could be Crystal Gayle's long-lost Viking twin.  She peers up from the placard on your shopping cart in the local Roche Brothers supermarket.  She smiles from below the fold of each issue of the weekly Hardington Chronicle.  She winks at you from every web site you visit.  She is a member of thirty town civic organizations where she pays absolutely no attention to the group's agenda or program.  Instead, Alexis relentlessly prospects for word of properties that may soon be on the market, whether because of a career-related move, up-sizing/down-sizing, or a change of marital status.
I couldn't accept that there were no vacant land parcels for sale in a town with a population of about ten thousand people scattered across 25 square miles.
"Wetlands, town forest, town watershed, Trustees of Reservations parcels, state-owned property…"  Alexis ticked off the entities that had taken my future homestead off the market.  "It may not look like it, but Hardington is effectively built out.  And has been for a decade."
"But I see new houses going up…"  I said.
"Teardowns," Alexis said.  "If you're desperate enough, you buy a house and then pay to have it torn down and carted away."
I could see tens of thousands of dollar bills sprouting wings and flying away.
We looked at the handful of vacant parcels in town.  They adjoined the railroad tracks, power transmission lines, the Sanitation Department's Transfer Station, or were bisected by wetlands. In one case, all four.  There were excellent reasons why no one had built on these parcels.
After another six months of fruitless searching, Alexis and I had The Conversation.  The Time to Get Real Talk.  The one where the Realtor drops the bomb.
"Anne," she said.  "We're going to have to buy a teardown."  We were having lunch at Zenith, Hardington's 'bistro' for the Ladies Who Lunch crowd.  To her credit, Alexis picked up the check.
"We're going to shoot for something under $400,000," she said.
Four hundred thousand dollars.
When Matt and I started talking seriously about downsizing, I threw out a figure of $500,000 for our dream 'just the right size' house.  I might add the amount included the house, the land, and a substantial budget for remodeling the house to meet our specific needs.  It didn't include landscaping, but that's a different story.  With the expenditure of $500,000, we would have a just-like-new house, perfectly scaled to our lifestyle.
Now, I was being told that four-fifths of that budget would be required to buy us a building lot… once we paid an additional sum to have the existing house leveled.  My heart sank.
It was about that time that I noticed Alexis kept saying 'we', as though she were kicking in part of the equity.  That's when it dawned on me that this was a two-step process.  Step one was buying a new house.  Alexis had already invested hundreds of hours in accompanying me through dozens of houses.
Real estate commissions in Hardington are five percent, divided equally between the buying and selling broker.  If Alexis received two-and-a-half percent of the $400,000 sale price, she would net something like $10,000.  While that's not a trifling sum, it works out to something like thirty dollars an hour.  Take out the car, gas, pantyhose, clothes, dry cleaning and lunches, and she might as well get a job as a cashier at Roche Brothers.
She had much bigger game in mind.  She was angling to sell our house.
Starter castles are in demand in Hardington.  Football players want them.  Upwardly mobile corporate executives want them.  Extended families most definitely want them.  The value of our home had always been in the back of my mind.  I had a working figure of a million five – $1,500,000.  If we paid $500,000 complete for our new 'just-the-right -size' house, we'd be able to bank more than half a million dollars, even after paying off our mortgage…
And the five percent commission on the sale of that property worked out to be $75,000.  The listing broker was guaranteed half that amount even if another broker brought the buyer. Listing a big house in a hot market is the easiest money around.  If Alexis helped me find the land for our just-the-right-size house, the moral calculus would demand that we award her the grand prize of the listing for our home.
And so we began looking at tear-downs in earnest.  The land that is now Hardington was seized from the Wampanoag tribe in the 1650s.  The hamlet was burned to the ground during the King Philip's War but, after 1678, Europeans returned.  There are a handful of dwellings from before 1700 in town.  No one is ever going to tear those down.  The 18th and 19th century homes are also fairly well off limits, but mostly because they have been snapped up by savvy builders who appended modern additions to the tiny saltboxes and Colonials that occupied two- and three-acre lots.  A house with a placard stating something like 'Thomson-Rogers home circa 1726' is a badge of honor, even though the original family would gaze in consternation at the added-on master suite with twin Jacuzzis and 500-square-foot his-and-hers dressing rooms.
Hardington also has a sizeable stock of roomy Victorians, a relic of the town's heyday as the 'Straw Hat Capital of the World'.  Those gingerbread houses, with their turrets and mansard roofs, now sport three-car garages masquerading as horse barns, as well as granite kitchens with Wolf appliances.  Those houses, too, are safe from the wrecker's ball.
The gold seam for tear-downs begins with the 1930s frame houses that rose as Hardington transitioned from rural village to Boston exurb.  It accelerates with the post-World War II subdivisions built when land was cheap to the point of being free, and an acre and a half allowed room for a septic tank and a huge lawn.  Hardington has three such subdivisions and the sale of a 1600-square-foot Cape in one of them is a sure sign that a Patriots third-round tight-end draft pick is going to be moving in, just as soon as a suitable 4500-square-foot Colonial gets erected in its place.
There's just one hitch to all of this:  the Historical Commission.
Fifteen years ago, a software mogul with more money than common sense turned a pleasant antique Colonial into a 15,000-square-foot showpiece.  OK, it was his property and, to his credit, the restoration of the original structure nicely preserved the façade, though little else.
The problem was that the software mogul's daughter wanted to take tennis lessons.  And so the adjoining property – another antique colonial – was purchased, torn down, and turned into a tennis court complete with a viewing stand, judge's box, and cabana.  The resulting outcry produced a special Town Meeting that enacted a 50-year 'lookback' rule.  If a house is more than half a century old, any alteration or demolition requires the approval of the Historical Commission.
Hardington's Historical Commission includes a mix of die-hard preservationists who vote 'no' on every application and a majority of realists who look at a property's structural integrity and figure out if it can be saved.
The system isn't perfect.  The Historical Commission can delay a demolition by up to two years, but a deep-pocketed developer can wait out the process, run out the clock, and then build whatever he wants.
* * * * *
All that was going through my mind when Alexis showed me the paperwork for 131 River Street.
I have driven River Street at least twice a week ever since I moved to Hardington.  It's a pleasant, meandering country road that starts just outside the center of town and winds its way to Oakley, the town just south of Hardington.  River Street was superseded half a century ago by a straighter, wider road and it is the route of choice for trucks or commuters hell-bent on getting to Route 128 a few minutes faster.  River Street, with its twists and dips, attracts motorists who aren't in a hurry and appreciate an occasional glimpse of water in the form of Summer Creek.  I assumed River Street had houses on it, though I had paid scant attention to them.
Well, here at least on paper, was a house on River Street.  A 1700-square-foot Cape set on almost two acres of land.  The house was built in 1940 so it was squarely in the purview of the Historical Commission.
"It's a dump," Alexis said.  "It has been a rental for ten years because three adult children could never stop squabbling over who got what share after their parents died.  It formally goes on the market in two days.  I know the broker who got the listing and she owes me a ton of favors.  Do you want to see it?"
"Hell, yes," I said.
Five minutes later we were on River Street and, for the first time, I looked closely at the houses along that roadway.  They were little houses – Capes, ranches, Colonials – and all well maintained.  They all sat on at least an acre of land and they all had been built back from the road, mostly behind pines or shrubs.
I instantly felt I could fit into this neighborhood.
Our destination house, on the other hand, was a case study in neglect.  The driveway was crumbling, the exterior had not been painted in decades and the roof visibly sagged.  But the lot was beautiful.  It was at least a hundred feet to the house on either side and, behind the house were woods as far as the eye could see.  Moreover, the lot was level.
I want this property, I thought.
"What's the asking price?" Alexis had pointedly not given me that information in advance.
"Three-ninety-nine-nine," Alexis said.  The price was Realtor psychology at work on both seller and would-be buyer.  Never tell a prospective buyer a house is "three hundred and ninety-nine thousand, nine hundred dollars.  Leave off that ugly pair of words, "hundred thousand".  And, don't say "dollars", either.  "Three-ninety-nine-nine" sounds effortless; a gossamer figure.  Pocket change, really.
And, for the seller, don't price the house at $400,000: the '4' in front of the price might scare off a would-be buyer.  In my mind, the only buyer it will scare off is one who can't figure out that "$399,900" is four thousand, one-hundred-dollar bills stacked up in a pile, from which someone has generously taken off the top bill.  Big whoop.  If someone can't figure out that little bit of arithmetic, they shouldn't be buying a house; they should be getting tutored in remedial math.
We stepped out of Alexis's Lexus (every Realtor I have ever met drives a Lexus; it's spooky).  It was mid-May and the air was redolent with the fragrance of lily of the valley and lilac.  There was a gentle breeze against my face.  I thought, This is a sign.
The house was even more of a disaster than Alexis let on.  The center of the roof sagged two feet lower than the ends.  The wooden front door was rotting.  Windows flaked paint down to grey wood and the window panes were grimy in the extreme.  That was the nice side of the house.
In back, plywood sheets that had been nailed over rotting siding were themselves decaying.   Now, the plywood veneers peeled away to show siding that could no longer hold paint.  A concrete-block foundation bowed ominously.  This was a dump waiting to be torn down.
But the lot was glorious.  It was nearly flat, sloping gently up from the street, leveling off at the house site, then sloping gently down behind the house.  There were huge pines all around and, underneath the pines, a rogue's gallery of invasive shrubs, poison ivy and noxious black swallowwort.
"Summer Creek is back there," Alexis said, waving her hand toward the back of the property.  "You'll own back more than four hundred feet."
I nodded.  This wasn't infatuation.  This was true love.  I had found my parcel of land.
"What do you think we can get it for?" I asked, trying not to betray my excitement.
Alexis pulled out her phone, which transformed itself into a calculator.  She tapped the screen multiple times.
"Are we talking all cash?"  She arched an eyebrow.
Of course we were talking all cash.  I had set aside the money months earlier for just such an occasion.  Matt hadn't batted an eyelash.  He knew I was serious.  Cash is king.  Spread hundred-dollar bills across the table like a Mafia don.  No financing contingencies.  Cold hard cash and just hand me the deed.
"We offer 85% of the listing price and say we'll close in three weeks."
I was working the math in my head when she said, "Three hundred and forty thousand."  I noted she had dropped the fiction that the price wasn't really $400,000.  "The house never formally goes on the market.  It's a private sale."
Alexis knew her stuff.
"Let's write up the offer," I said.
"It's as good as yours," Alexis said, a broad smile on her face.
Chapter Two
It is amazing how much can change in 72 hours.
I drove home on a cloud of relief after we wrote up the offer.  We finally had our home site.  I pulled a bottle of Champagne from the cellar to await Matt's arrival home.
When Matt saw the Champagne, he smiled.  He likes for me to be happy, and nothing says happy like Champagne.  We drove to River Street and I showed him the house from the roadway.  We went home and used Google Maps to estimate the proximity to Summer Creek.  He shared my excitement.
"I know it's more than you planned," he said.  "But I agree it's the perfect location.  I always figured we'd bring it in for around six-fifty."
That meant we would need to build a house for roughly $310,000.  I had in mind something around two thousand square feet.  That meant about $150 per square foot for a house.  It would be tight, but I could do that.
"Sure, my love," I said.
And I believed it.
* * * * *
Alexis delivered the offer to the other Realtor the same evening.  When we hadn't heard anything in 24 hours, Alexis came to my home.  I felt something was wrong.  Alexis offered soothing words.  "They're just quibbling about dividing the proceeds."
"Should we have offered more?"
"Relax," Alexis said.  But there was a wrinkling around her eyes that told me she was thinking the same thing.
I drove by the house the next day.  There were half a dozen trucks parked on the lawn.  Painters, carpenters, electricians.
They were trying to fix the place up!
I called Alexis, who had never lost her cool in my presence.  "I'll call you right back," she said.
Fifteen minutes later she delivered the bad news.  "There's an open house on Sunday," she said.  "And an all-new price."
I braced myself.
"Four hundred twenty-eight thousand."
* * * * *
The Realtor.com listing made it sound idyllic.  "FIRST SHOWING SUNDAY 11-2.  Cozy home for first-time buyer or empty-nester.  Three upstairs bedrooms, downstairs master.  Spacious kitchen and screened porch to enjoy nature.  Huge level lot."
We hadn't even gone inside.  Why bother?
Alexis had her own showing that morning but she encouraged me to go see the house without her.
The street was crowded with cars.  No, not cars; minivans.  An entire flotilla of minivans meaning dozens of moms with young kids.  All of them eager to get a piece of the highly prized Hardington School System for a little over 400K.  If you had three kids and the alternative was fifteen grand per kid per year for private day school in order to avoid the dropout academies in whatever "affordable" town you lived in, it was like a raise in pay.
Inside, a cheerful young sales agent handed me a brochure, instantly sizing me up as one of those 'empty nesters'.
I looked around the first floor.  It smelled of fresh paint and butchers wax.  That team of workmen had transformed the interior into something that, at first glance, looked like move-in condition.  The walls were spotless beige, the floors gleamed.  The windows had been washed and the front door replaced.  Of course, the "downstairs master" was a ten-by-ten room with a two-foot-by-two-foot closet and a claustrophobic half bath.  The kitchen featured harvest gold appliances.  Upstairs, there were in fact three bedrooms.  No bathrooms, just three tiny bedrooms, the smallest of which was less than eight feet on a side.  The porch floor sagged and groaned underfoot, in stark contrast to the bright white ceiling and newly installed screens.
In the basement there was sunlight from outside visible around the frames of the tiny windows.  The furnace was original equipment; a hulking monster that had likely been converted from coal and now burned oil with an efficiency in the single digits.  The concrete block wall was cracked and bowed.  Surely, no one was taken in by the fresh paint upstairs.
Surely.
* * * * *
The email arrived Sunday evening.  Alexis read it aloud over the phone.  Our offer was acknowledged.  We were invited to make a second offer, provided it was above $437,000.
"She's playing games," Alexis fumed, with something of a snarl in her voice.  "She used our offer as the stalking horse to talk her sellers into putting some money into the house.  She told them, 'spend fifteen thousand now and get back fifty thousand next week.'  She's going to pay for using me like that."  Another snarl.
My heart sank.  The tactic had worked.  In fact, it had worked twice as well as Alexis's postulated conversation between seller and seller's agent.  My $340,000 offer was now low by nearly a hundred thousand dollars.
"Do you really want this property?" Alexis asked.
"I don't want it $437,000 worth," I said.
"Then make the same offer," she said.  "But this time we say we'll close in ten days, no contingencies, all cash."
"What difference does that make?"
"The family that made the high offer probably did so with lots of contingencies," Alexis said.  "The house has to appraise for that amount to get a mortgage, and no appraiser is going to sign on to that much value in a dump like that.  It has to go through an inspection.  The price won't hold."
Alexis was absolutely right.  Ten days later, the house was back on the market.  The new price was $410,000.  We raised our offer to $350,000 with the same quick, all-cash close.
A week later, the house was sold.
To a developer.
* * * * *
I moped around the house for four weeks.  Matt said I was depressed.  He was right, though I wouldn't admit it.
I looked at other properties.  I went through the motions.  But every day I made a point of driving down River Street.  I looked not just at the house I wanted, but at the houses around it. This was a neighborhood.  These houses were well tended.  I saw a mix of young mothers playing with toddlers on lawns and elderly couples planting perennials.  Moreover, this was a street filled with people walking.  On our cul-de-sac with its eleven starter castles, no one walked.  One five-year-old whose family lived three doors down even had a kiddie-sized battery-powered Mercedes.  It was materialism run amok.
And on River Street everyone gardened.  I was the only gardener on our cul-de-sac.  Our neighbors' properties were maintained by landscapers who applied a continuous diet of chemicals to the lawn and planted the same boring and completely predictable half dozen trees and shrubs on every lot.  The people on River Street would be kindred spirits.
Meanwhile, we heard that the demolition permit for 131 River Street had sailed through the Historical Commission on a 9-2 vote.  The hearing had taken, according to people there, less than half an hour.
In mid-June, I walked into Matt's study.  He looked up from a much-marked-up draft agreement.  He even seemed to know what I was about to say.
"Why didn't we just pay the asking price?"  I said.
Note that there was no context to my statement.  I could have been talking about Roquefort cheese or Red Sox tickets.
Matt put down the contract.  "Because you weren't certain," he said.  "You were thinking with your head, not your heart."  He paused and cocked his head.  "Are you certain now?"
"More than you know," I said, recalling my daily trips to see the property.
Matt nodded. Then, slowly, he reached into his back pocket and extracted his wallet.  From his wallet he took a slip of paper torn from a yellow legal pad.  He held it out for me to take.
"What's that?" I asked.
"The name and telephone number of the man who bought the house," Matt said. "It wasn't hard to find."
"You've already talked with him?" I asked, incredulous.
Matt shook his head.  "No.  You're going to call him.  Negotiate with him.  Buy the house from him."
I took the slip of paper with trembling hands.
"Are you sure?"  I asked.
"You are a great negotiator," Matt said.  "I have unlimited faith in you."
A question formed in my mind.  I held up the little piece of paper.  "Exactly how long have you been carrying this information around in your wallet?"
Matt shrugged.  "Two days.  I sensed you had made up your mind.  I was waiting for you to ask."
Another question was right behind the first one.  A scary question.  "How much can we afford?"
Before I continue with this conversation, I need to interject the only thing I will say about Matt's and my background.  Neither Matt nor I grew up with money.  Oh, my parents indulged me my passion for horses, but that was the lone extravagance in our family and it was a matter of doting on an only child.  Otherwise, we lived quite modestly.
Matt was a scholarship student from his freshman year through law school.  He got to where he is because he is smart, not because of any family connections.  When we married, our financial resources were, to put it mildly, meager.  Everything since then has been a product of hard work, frugality, and a certain amount of luck.  Even though Matt's career has earned us a more than comfortable living, our backgrounds continue to color our financial choices.  'Ostentatious' is not part of our vocabulary.
"You know our finances as well as I do," Matt said, and this time he was smiling.  "You see the statements before I do.  You know what we can afford."
"No vacations," I said.  "No expensive dinners out."  It was a warning of tighter belts ahead.
"Do what it takes," he said.