I am often asked where I get the ideas for my books.  The genesis of 'Murder in Negative Space' goes back four years when I had the pleasure to share a banquet table with Deen Day Sanders, an irresistible force in the flower show world.  She was about to bring the World Association of Flower Arrangers, or WAFA, to Boston and she shared with me her enthusiasm for the pending event.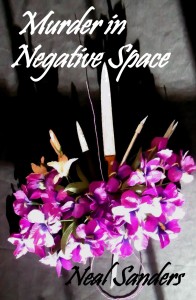 I was so intrigued by the notion of such an undertaking that, a month later, like Liz Phillips, I was pushing staging into place before the show's opening.  Further, like Liz, my wife, Betty, was escorting groups of designers through the Boston Flower Market in the pre-dawn hours.  I thought at the time that an international floral design show would make a great setting for a mystery, but other projects took precedence.
Then, in April 2014, friend and reader Linda Jean Smith of Chelmsford, MA shared with me a vivid recollection about an obnoxious floral designer who noisily directed and berated an assistant working on a balcony above him; annoying everyone else in the room.  Afterward, I could not get that image out of my head.
The final pieces of the story clicked into place with the reading of a biography of Marshal Georgy Zhukov, a pivotal figure in World War II who is largely unknown in America; and the unfolding of events in the Ukraine over the spring and summer of 2014.  By June, Valentina Alexandrovna Zhukova had come to life in my imagination, and Lieutenant Victoria Lee, ably assisted by Detective Jason Alvarez and Liz Phillips, had been dispatched to find her killer.
The plot of 'Negative Space' is straightforward.  At an international floral design exposition being held in Boston, the body of a glamorous and innovative Russian designer is found dead: stabbed and then hung from a massive floral design.  Lt. Lee and Detective Alvarez – fresh from solving the murder of the head of the New England Botanical Society in 'A Murder at the Flower Show', tackle the case.  They quickly find that the victim, Valentina Zhukova, is both more and less than she appears to be.  For one thing, she is the very proud granddaughter of Marshal Georgy Zhukov: 'Stalin's general' and the man who lifted the sieges of Leningrad and Moscow.  But she is also a nasty piece of work.  Zhukova toes the Kremlin line.  She's an ardent nationalist who seems to take pleasure in the pain she inflicts on the people around her.
Who would have wanted to kill Zhukova?  There's a line of suspects that begins with her assistant, to whom Zhukova was especially cruel.  The woman who will be the next head of the organization that put on the design conference lost a sister on Malaysian Flight 17.  Zhukova openly taunts the woman for her loss.  There are other designers whose work and reputations  Zhukova has trashed.  And Zhukova, herself, may have talents that go beyond arranging flowers.
It's a great story, as contemporary as today's headlines but with a fair amount of history thrown in for good measure.  You'll learn about floral design, hotel recycling, Russian oligarchs, and Marshal Zhukov.  Each will play a role in solving the murder.
MURDER IN NEGATIVE SPACE
Prologue
"Worthless garbage."
Valentina Alexandrovna Zhukova pulled apart the delicate head of a seemingly perfect iridescent blue iris.  Picking up another iris, she briefly inspected it and destroyed it in the same manner.
The six women and one man around her in the Grand Ballroom of Boston's Convention Center Plaza Hotel paid little attention to this latest outburst.  Zhukova was not speaking to them and the acts of floral mutilation had been going on in one fashion or another for more than two hours.
"I can find better material than this on any street corner in St. Petersburg," Zhukova sneered.  "World class city.  World class flower market.  Govno."  She smashed the heads of another half dozen irises.
A thin, pale woman climbed down from atop a ten-foot ladder.  "Valentina Alexandrovna, maybe we take short break."  The woman spoke the words softly and soothingly in English.  They were intended to be heard by the other people in the room, as well as by Zhukova.
Zhukova glared at the pale woman.  "Always the conciliator, Ludmila Karachova.  Always the one to make do with second best."
The two women now stood just inches from one another.  Zhukova was twelve inches taller than Karachova.  She was blonde with high cheekbones and an athletic build to Karachova's mousy brown hair, round face and shapeless body.  Zhukova, who appeared to be about forty, was attired in expensive black slacks and a brightly colored designer tunic over a crisp white blouse.  Karachova, at least ten years older, was in shades of brown.
The pale woman took Zhukova's hand and whispered something in Russian.  Whatever she said had a calming effect.  She spoke for perhaps thirty seconds, smiled, and released Zhukova's hand.
Ten seconds elapsed.  Zhukova turned and addressed the other people in the room, few of whom had paused in their work to regard the dynamic between the two Russians.  "Jet lag," she said.  "I am not usually this kind of person.  Jet lag is my reason.  Please forgive my outburst."
Everyone nodded and murmured appreciation and understanding.  Two by two, they returned to the task at hand, creating and assembling four massive hanging floral designs suspended above the center of the massive Grand Ballroom floor.  Each design incorporated a three-foot-diameter spherical aluminum truss; a series of thin metal straps that all but disappeared beneath the flowers embedded in water-retaining foam.
Arranged in a square and twenty-five feet apart, each of the spheres hung by a heavy chain from the ballroom's twelve-foot ceiling such that the bottom of the apparatus was seven to eight feet above the floor.  When completed, viewers would be able to see the designs from anywhere in the room, including from directly underneath each sphere.
One member of the team directed from the floor and passed up floral material.  The other went up and down a ladder, positioning material and placing it only when the designer on the floor nodded his or her assent.
Outside, it was nine o'clock on a damp, chilly early April evening.  Inside the cavernous ballroom, there was no time and no clock.  There was only a competitive pressure.  Four teams each comprised of a designer and an assistant.
Oddly, the competition was heightened because these designs would never be formally judged by any panel.  But over the next five days these four airborne spheres would be seen every morning, afternoon and evening by eight hundred of the world's best floral designers.  Each attendee would spend more time looking at these designs than at any of the others in the adjacent Boston Convention and Exhibition Center.  These designs would be overhead at every meal, every keynote address and at the final awards ceremony five days hence.  A month after the attendees returned home, the 250,000 square feet of floral creativity in the Convention Center would be a blur of color and form.  These four designs would be embedded in memory for years to come, and every attendee would have his or her favorite.
Nine o'clock became midnight and midnight became two in the morning.  Zhukova's outbursts continued, though with less frequency.  At three o'clock, as if by common consent, the group declared their designs complete.  Wordlessly, they dragged buckets of leftover flowers to a side room, packed carts with the tools of their art, and left the room.
* * * * *
Two hours later, the first crew opened the doors to the Grand Ballroom from the adjoining kitchen and service area.  Four men pulled two large wagons filled with tablecloths and linen to dress one hundred tables for breakfast.  Just ahead of them, three men pushed vacuum cleaners and wagons containing cleaning supplies.  They chattered in Spanish or Portuguese about family, work and news from home.  The first man to enter the ballroom pulled a cleaning supplies cart, grunting under its weight.  The second man pushed the same cart and glanced up only when he was fully in the room.  When he did, his hands let go of the cart and went to his face.  He stood at the room's entrance, his mouth open.  He crossed himself.
"Dios mio," he said.
Forty feet in front of him, suspended from the base of one of the flower-filled spherical aluminum frames, a blonde woman in black pants and a white blouse hung grotesquely by her neck.  Her feet were eighteen inches off the floor, her white blouse was streaked and spattered with red, her eyes open but empty.  Pools of dark blood coagulated on the carpet below her.
One by one, the other six men stopped and followed the one man's gaze.  Some crossed themselves and murmured religious incantations.  Others merely stared before offering less ecclesiastical comments.
Chapter 1
Wednesday, April 8
At 5:27 a.m., Lieutenant Victoria Lee parked her Honda Civic in an open space in the cramped lot behind District C-6's headquarters on West Broadway in South Boston.  Her official starting time did not commence until 7 a.m. but, as she was quickly learning after seven weeks on the job, the demands of the position could not be shoehorned into an eight, ten, or even twelve-hour day.  By the time her detectives reported for duty at 7:30, she was expected to have reviewed all active case files and be ready to pepper those detectives with intelligent questions.  Her Captain could arrive at 8 a.m. or he could already be at his desk, and his questions could begin flying even before she was in her office.
Vicky – the 'Victoria' was foisted on her by Anglophile parents and was truncated to 'Vicky' at seventeen on her first day of college – Lee was well aware of the eyes that were on her every day.  She was thirty.  She was a woman.   She was Asian.  And, a few weeks earlier she had been promoted to Lieutenant after four years as a patrolman and five years as a detective.  Those who did not know her assumed the rapid advancement was because of gender and ethnicity; a matter of pandering to noisy political constituencies.  It did not help that she appeared even younger than thirty.  Conversely, those who had worked with her cheered her on.
As she did every day, Lee wore a skirted suit and white blouse.  She owned perhaps eight or nine such outfits, more or less identical except for color and all purchased online.  Today's outfit, pulled in rotation from the right-hand side of her clothes closet, was red. Her lone concession to jewelry was a pair of half-carat diamond studs, a birthday gift from her parents two years earlier.  An unadorned black leather shoulder bag completed her ensemble.
Her first stop, even before refreshing her cup of coffee, was Dispatch.  There she could get the first, raw information about overnight events.  From a law enforcement point of view, South Boston came alive at about 10:30 p.m., when people began leaving the bars and restaurants along Seaport Boulevard and Northern Avenue.  From then until 1:30 a.m. there was a steady string of '911' calls or cruisers reporting suspicious behavior.  Most of it – ninety percent of it – was fueled by alcohol.
The balance was what those on West Broadway called 'real' police work.  Sexual assaults, drug arrests and muggings were growing problems with the increasing number of hotels and tourists along the waterfront.  Shootings, at least, were still rare.  Domestic violence – DV in police shorthand – generated at least half a dozen calls each evening.
The Dispatch desk was the communications nerve center of the District, a low semicircle of electronics at the center of which sat Jasmine Jones, the overnight communications officer.  Her job was to monitor every radio conversation, responding instantly to requests and to apportion the District's resources in support of every call.
"What do you hear, Jasmine?"  Lee posed the question to a tall black woman wearing four-inch gold hoop earrings complementing a vividly patterned black and gold sweater.  The earrings swayed in an exaggerated arc with every movement of the woman's head.
"Got a good one going right now," Jasmine said.  "Seven minutes ago we got a call from Security at the Convention Center Plaza Hotel.  They found a woman hanging from some kind of flower arrangement in the ballroom…"
"Play me the call," Lee said quickly.
Jasmine pressed two buttons with the tips of her long, gold fingernails.
"9-1-1."
"Yeah, this is Security at the Convention Center Plaza Hotel on D Street.  We've got a body here.  A woman.  Looks like she was stabbed or shot, and she's hanging from some big metal ball with flowers sticking out of it…"
"Where exactly are you?"
"The Convention Center Plaza, on D Street…"
"Where in the hotel, exactly?"
"Oh, the Grand Ballroom.  Mezzanine level.  She's…."
"Units 217 and 93, please respond to a report of a body of a woman at the Convention Center Plaza Hotel, 400 D Street.  Proceed to the Grand Ballroom on the mezzanine level and notify upon arrival."
The call went on for several minutes as Jasmine pulled information out of a night security guard named Theo who quickly proved to be out of his depth in responding to questions.  It was not helped by the background noise of people around him offering opinions on what to tell the police.  EMTs were also summoned although the security guard made clear he believed the woman was dead.
"What about detectives?" Lee asked.
Jasmine shook her head.  "I had two DV calls within fifteen minutes of one another about an hour ago.  Protocol is to wait for the initial report from the uniforms…"
She was interrupted by the excited voice of a policeman coming over the speaker.  "Jesus Christ," the policeman said.  "There are these four big balls of flowers hanging from the ceiling.  There is a woman – Caucasian, late thirties or early forties – blood all over the front and back of her shirt and she's been hanged by the neck with some kind of purple wire…"
Lee motioned for Jasmine's earpiece.  "Officer, this is Lieutenant Lee.  Get a cordon around the area.  No one except authorized personnel gets within fifty feet of that crime scene.  I'll be there in ten minutes."
Lee returned the earpiece to the dispatcher.  "Get Lois Otting out of bed and get someone from public affairs up to speed.  Get the full homicide technical team over there.  Where is Jason Alvarez?"
"He's on one of the domestic violence calls."
"Call him and tell him I need him at the Convention Center Plaza.  Tell the shift commander I'm going over to the crime scene."
"Respectable white woman, probably a tourist, hanging from a flower pot," Jasmine said without a hint of sarcasm.  "Someone needs to be there who knows what they're doing."  Then the dispatcher cocked her head.  "Flowers.  That's how you got famous in a hurry.  That thing at the flower show.  The guy in the pool…"
Lee gave a hint of a smile.  "My legacy.  I'm glad the flower show comes but once a year."
Chapter 2
The Convention Center Plaza was one of half a dozen new hotels that had sprung up in recent years on the perimeter of the Boston Convention and Exposition Center a few blocks from the South Boston waterfront.  At eleven stories and clad in glass and red brick, it was identical in height to the surrounding hotels, distinguished only by the subdued, backlighted 'Plaza' sign on its top floor.
These hotels' fortunes rose and fell with whatever event was booked into the 'BCEC' as it was known colloquially.  A medical convention a week earlier had resulted in a flood of calls as thieves preyed on well-heeled conventioneers and their families out walking too far from the sanitized and heavily patrolled waterfront.  Before that, a computer game developer's conference drew nearly 100,000 youthful attendees; a measurable fraction of whom consumed too many street drugs or alcohol.
The LED sign at the entrance to the convention center read, "WELCOME IFDA APRIL 8 – 13".  A stylized hand held out a bouquet of what were probably supposed to be roses.
A florists' convention? Lee wondered.
Three police cars and an EMT van pointed Lee to the right hotel entrance, and an escalator indicated the Grand Ballroom was one flight up.
The enormous ballroom itself was ablaze with lights.  A hundred bare round tables, each with eight chairs, filled the room except for an area in the center of the space.  There, the four flower-filled spheres were suspended from the ceiling, with four ten-foot ladders nearby.  The tables that would have been closest to the spheres has been pushed back, creating a solid perimeter with a single access lane for police and EMTs.
And, hanging from one of the spheres was what until a few hours ago had been an attractive woman with short blonde hair in a white, blood-stained blouse and black slacks.  Around her neck was a purplish-colored wire of a type Lee had never seen.  The woman's feet cleared the ground by roughly eighteen inches.
Slavic features was the first thought that went through Lee's mind.
An argument was well underway at the front of the room and Lee gravitated to it.
"…there is no place else.  In two hours, eight hundred people expect to… they've paid for this breakfast… surely you can just curtain off…"
Lee took her leather badge holder out of her purse and flipped it open.
"I'm Lieutenant Lee of the Boston Police Department. May I ask the problem?"
A white-haired woman in her late sixties, overweight and bereft of makeup but nonetheless attired in an expensive silver-colored suit to which a heavy brooch was anchored, heaved an audible sigh of relief.  "Thank God someone is finally in charge."
"And you are….?" Lee left the question open.
"Mitsy Fairchild," the woman said in a tone that managed, in just two words, to express amazement that anyone in the room didn't already know her on sight.
"And what is the problem?"
Fairchild turned her attention to Lee, made some assumptions, and began speaking.  "At 8 a.m., I have eight hundred people coming for the opening breakfast – a major event.  Some of them may be here even earlier because they've been at the Flower Market since 4:30.  This policeman…." With her ample chin she indicated a uniformed officer half her age standing next to her, "….says this is a crime scene and the room will be closed until further notice.  I assume you can see the need for an accommodation to our needs."  Her case stated, the woman crossed her chubby arms and waited for Lee's inevitable acquiescence.
Lee glanced at the policeman's name badge.  "Officer Torres is exactly right," Lee said.  "Here's what you're going to do, Ms. Fairchild:  there's a convention services manager on duty right now.  Find that person and have him or her check the Westin, the Marriott, Hyatt, Renaissance, and the Seaport and see if their ballroom is available.  My guess is that the convention people – who are very good at this – can move the food and the staff, and everyone will assume it's just a misprint in the program."
"You can't be serious…"  Fairchild's face showed a willing non-comprehension of Lee's instructions.
Lee indicated the woman hanging from the sphere.  "Do you know that woman?"
"Everybody knows that woman," Fairchild said, without actually looking at the body.  "She's Tina Zhukova and she's one of the most gifted floral designers in the world."
"And so your suggestion is that we ought to just cut her down, pack up and clear out of the place, and let you get on with your breakfast?"
The question took the woman aback. "Well, no, but can't you just curtain off the immediate area?"
"Take a good look, Ms. Fairchild."  Lee pointed at the body, fairly forcing Fairchild to follow Lee's arm and finger.  "She didn't do that to herself.  Someone killed her," Lee said.  "My job is to catch that person.  Are you in charge of this convention?"
"Just the meals," Fairchild said, her voice faltering.  "Winnie Garrison is the IFDA chair."
"Why isn't she here?" Lee asked.
"She's at the Flower Market with several important guests."
"I assume she has a cell phone.  Call her and tell her she needs to come to the ballroom right now; not in an hour.  Then go talk to convention services.  Then, we're going to talk about IFDA and why everyone knows Tina Zhukova."
* * * * *
Medical Examiner Lois Otting watched as Mitsy Fairchild walked over to talk to a group of women that had gathered near the entrance to the ballroom.  She had observed and heard the exchange.
"God, you sure turned on the charm for that old battle-axe," Otting said.  "I'm going to make you up one of those 'Miss Congeniality' sashes."
"She's upset that she has to move her breakfast," Lee said incredulously.  "Someone she knows is dead, there's blood all over the floor, and all she can think about is putting bacon and eggs in front of eight hundred people."
"Oh, I think some of them will opt for the yogurt and granola, but it does seem a bit too callous," Otting said.  The comment earned Otting a smile from Lee.  Cool down.  Take it easy.
Lois Otting was an inch either side of five feet and, weighing in at two hundred pounds, could be charitably described as plump. But she was also, in Lee's experience, the best medical examiner in New England and one of the best in the country.
Otting was also an unconventional dresser, especially being awakened from a sound sleep at 5:40 a.m.  She had shown up at the hotel in a pair of pink Lululemon yoga pants, a New England Patriots sweatshirt and a bright orange overcoat that appeared to have been rescued from a dumpster.  The effect ensured that no one would inadvertently back into her.
"Do you know anything yet?" Otting asked.
Lee shook her head.  "Her name is Tina Zhukova and she's quote-unquote one of the most gifted floral designers in the world, according to Ms. Fairchild.  And we have apparently wandered into the IFDA convention, which I know nothing about except that everyone is at the Flower Market, wherever that is."
"The Flower Market is just down the street from my office," Otting said.  "Albany Street.  You've passed it a hundred times.  Huge, long one-story building.  Kind of hard to miss."
Lee shrugged.  Her cell phone chirped a unique musical snippet.
Otting whispered, "I'm going to get started with Miss Zhukova."
Lee looked at the caller ID though she knew from the ring tone who was on the other end of the line. She muttered an obscenity.  It was her Captain.
"Yes, Sir," she said.
"What's going on there?"
Lee began walking toward the body.  "I've been on the scene less than ten minutes, Sir.  It's definitely a homicide.  Tina Zhukova, white, late thirties or early forties.  Three wounds to the torso; two to the back, one to the chest.  And then suspended by the neck with some kind of wire.  She's part of a convention group called IFDA, something to do with flowers.  The sphere she's hanging from is a giant flower arrangement.  One of four in the room.  The ME just got here, I have four uniforms keeping people away, three EMTs here now and a full technical team due any minute, and I've asked for a detective who would otherwise be going off duty in an hour.  I've also asked for someone from Public Affairs."
"Russian, you think?" the Captain asked.
"Or eastern European," Lee replied.  "She's Slavic by appearance and the name is Russian.  I'll know more in an hour unless you need me to come back."
"Come back?" the Captain said.  "I was calling to tell you that you're the primary on this.  It's a hotel at the BCEC.  If she's a tourist, the media is going to be all over this, and I don't mean just the local people.  We don't need any unsolved murders of tourists in Boston.  Get back to me in an hour."  The phone screen indicated 'call ended'.
She looked up.  "Jason!" and beckoned him to hurry.  Detective Jason Alvarez, age thirty, had proven indispensable six weeks earlier in solving the murder of the New England Botanical Society's executive director, a crime that had taken place a mile away at the Harborfront Exposition Center.
Except for the perpetual serious look on his face, Alvarez was almost boyish looking, with black wavy hair and dark eyes.  He wore a brown wool sports jacket, a white button-down shirt and a narrow, muted striped tie that looked as though it might have been handed down from his grandfather.
"You have your computer, right?"
Alvarez nodded.  "Nice to see you, too, Lieutenant."
"Sorry," Lee said, shaking her head.  "You're the second person this morning to tell me I need to slow down.  You're both right."  She paused to catch her breath.  "In ten minutes, I want you to tell me everything you can find out about a flower group called IFDA and a world famous floral designer named Tina Zhukova, and don't ask me how to spell that."  Indicating the body, Lee added, "Miss Zhukova is our guest of honor.  And if you have time, get me something on Winnie Garrison, who is the head of IFDA."
Lee left Alvarez pulling an iPad out of his briefcase, and walked over to the policeman who had been being badgered by Mitsy Fairchild when she first arrived.  He was watching Otting's examination of the body.
"Officer Torres," she said, "This is a hotel and I'll bet there's a kitchen behind those double doors."  She indicated two doors with portholes in their fabric covering.  "And I'll also bet that kitchen has been brewing coffee since five o'clock this morning.  I want you to use your charm and, if that doesn't work, your authority to requisition a gallon of that coffee and a dozen mugs."  She smiled, as did Torres.
"Right away, Lieutenant."
Chapter 3
"IFDA is the International Floral Designers Alliance," Alvarez said.  "As far as I can tell, it exists solely to put on a flower show every two years in a different country.  This year it's Boston, two years ago it was Italy.  The next one will be in Malaysia."
"A flower show," Lee said.  "And to think less than an hour ago, I told someone I was grateful that the flower show was only held once a year."
"It's a different kind of flower show, Lieutenant," Alvarez said.  "This one is just flower arranging or, as they call it, floral design.  None of those big landscape exhibits or anything like it.  Just eight hundred floral designs in fifty categories.  IFDA's press release said there are people from sixty countries participating.  It opens to the public on Friday.  Twenty-five bucks a head to see the designs.  Actually, I heard something about it on the radio."
He tapped his computer's screen.  "Edwina 'Winnie' Garrison is Chairman of IFDA.  She's from California and she and a small committee put on this whole thing.  This organization runs on big donations, and Ms. Garrison is part of the 'Platinum Circle'.  Assuming her husband is Frederick Garrison, it explains why Los Angeles' biggest independent law firm is also a Platinum Circle member."
"Which brings me to Valentina Alexandrovna Zhukova," Alvarez continued.  "She has two stories to tell.  The first is that she is in fact a world-class floral designer.  She is described in several articles as 'The Queen of Negative Space' which is some kind of floral design term.  She lives – lived, excuse me – in St. Petersburg, but she lectures, judges, and writes books."
"And?" Lee asked.  "You've got something else on that computer screen."
"Does the name 'Marshal Zhukov' mean anything to you?"
"Should it?"
"If you grew up in Russia, he's a saint.  Georgy Zhukov, Marshal of the Soviet Army during World War II or, as they call it in Mother Russia, The Great Patriotic War.  He was the guy who lifted the sieges of both Moscow and Leningrad and chased the Wehrmacht back to Berlin, where he accepted the Nazi's surrender.  He is also Ms. Zhukova's grandfather.  Zhukov fathered four daughters by three women, only two of whom he was married to.  Valentina is the daughter of one of the legitimate ones, and her father was career military.  I have a full page of Google images showing Valentina with Vladimir Putin.  She's extremely well connected."
"Just what I need," Lee mused.  "Vladimir Putin to take a personal interest in this case."
There were raised voices from the far side of the ballroom.  A tall, slender woman was trying to push past two policemen who were forcibly blocking her way.
"Let's go see if this is Winnie," Lee said.
It was. Edwina Garrison stared at the still-hanging body of Valentina Zhukova, a look of shock and non-comprehension on her face.  "Who would have done this to her?" Garrison asked.  "And why?"
"Those are the questions we need to answer as quickly as possible, Ms. Garrison," Lee said.  "May we go somewhere and talk?"
* * * * *
Edwina Garrison was not the kind of person Lee had expected.  She was easily seventy but was attired in blue jeans – very expensive ones, but still jeans – and a down vest over a 'UCSB' sweatshirt.  Her silver hair was pulled back into a pony tail and she wore minimal makeup that was visible as makeup only on close inspection.  On the whole, she gave the impression of someone who was both comfortable with her actuarial age yet possessed of an uncommon vigor.
She also had every fact about the convention on the tip of her tongue.  She was eager to help and readily accepted that a police investigation trumped the concerns of a flower show, even one that had been meticulously organized for two years.  Finally, Lee quickly concluded Garrison possessed an earnestness that showed in her responses to questions: this exhibition was her child.
"You have to understand that floral design is a passion for many people," Garrison said, "but that outside of the United States, Western Europe and Japan, finding an outlet for that passion can be very difficult.  There are more than 350 garden clubs in California, for example.  If I want to learn about design I can go to Flower Show School.  If I want to exhibit, there are club shows and regional shows and shows associated with fairs.  But what if I live in Ecuador or Kenya or Turkey?  That infrastructure doesn't exist.  There are two international groups – we overlap in some ways and are complementary in others – that fill the universal need to be around other designers."
"You must have to be fairly well off to travel from Kenya to Boston just to exhibit in a flower show," Lee observed.
Garrison nodded her concurrence.  "That is a factor.  But this is an event that people look forward to for two or even four years.  In two years we'll be in Kuala Lampur.  Our designers won't come just for these five days; they'll be in the country for weeks.  This is just the 'tent pole'.  Also, certain of our designers come from restrictive societies.  Those restrictions don't follow them to Boston."
"Everyone knows one another?" Alvarez asked.
"There's a core group that has exhibited at every IFDA event since Sweden in 1993," Garrison replied.  "We encourage that bond of friendship and we pick up additional 'regulars' at every show.  But perhaps a quarter of our entries this time are from American exhibitors for whom this is their first show.  My goal in bringing IFDA to the United States was to make 'regulars' out of these first-timers.  We also expect to draw upwards of fifty thousand visitors on Friday, Saturday and Sunday to see the designs.  We'll try to impress on them that they could be exhibiting in Malaysia in two years."
"When do you start organizing that Malaysian show?" Alvarez asked.
Garrison laughed, but then held up a hand to excuse her action.  "I'm sorry for that involuntary response, Detective," she said.  "As of Sunday evening, I'm officially retired and I go back to my sheep farm in Santa Barbara. The next President of IFDA is a lovely Malaysian woman named Zara Jretnam.  She understudied me for two years just as I understudied my predecessor, who was an absolute fireball from Milan.  These five days are both my glory and my swan song.  I am just so very sorry that there had to be tragedy associated with the show."
"Let's talk about Valentina Zhukova," Lee said.  "Did she have enemies that you know of?  Professional rivals?"
Garrison shook her head, a rueful look on her face.  "This is a very civilized group.  I know many of these people – hundreds, in fact.  I know all of the Committee members and many of the regular attendees.  Some people don't get along with other people but nobody 'hates' anyone else.  And, as for 'rivalries', we are all amateurs when all is said and done.  Some have outsized reputations within the floral design world, and those reputations translate into speaking fees or book contracts, but very few have a livelihood riding on whether they get a Gold or a Silver.  It isn't that kind of a competition.  It's collegial and it is supposed to be educational and fun."
Lee pressed.  "Then how did she come to be putting together that design last night?  I thought everyone was buying flowers this morning?  Did she enter that group specifically?"
Garrison paused before answering; collecting her thoughts.  "The vast majority of the exhibitors have paid their own way here, paid an entry fee to compete, paid for their hotel and meals, and are paying for their own flowers as we speak.  We also have what we call 'invitational' and 'honorary' exhibits.  For those, we – and I mean the Committee – extend an invitation a year or more ahead of time because we want the best of the best.  We provide those designers a highly visible showcase for their talents."
Garrison continued.  "I can still vividly remember the meeting where we discussed the ballroom exhibit.  There were a few names common to everybody's list.  Tina's was one of them.  We contacted Tina that day and offered her both the place in the ballroom exhibit and a lecture spot.  She readily agreed and with very few conditions."
"What were the conditions?" Alvarez asked.
"The one we expected was that we would pay both her airfare and that of her assistant.  Most designers use a knowledgeable local volunteer to do the grunt work – and those chosen consider it an honor to be selected – but for as long as anyone can remember, Tina has worked exclusively with a woman named Ludmila Karachova.  But she didn't ask for her own airfare or to be comped for her hotel and meals; only for those of her assistant.  That was quite generous on her part.  She did, however, request a speaking slot on Friday afternoon – prime time – but that was fine because we all felt she would be a big draw.  On the whole, her requests were extremely reasonable."
"Did she ask about the other people with whom she would be doing flower arrangements?" Lee asked.
Garrison smiled.  "You mean, the other 'exhibitors' and their 'designs'.  Those are the terms of art in our world, just as the police have their own terminology.  Valentina was the first person we asked and we didn't know if the others we were inviting would agree.  But as it turns out, she didn't ask though, in the case of an invitational, she could have made that a condition."
"We'll need to speak to the other participants – both the designers and their assistants, including Ms. Karachova," Lee said.  "From there, we'll widen our circle."
"I have someone who can arrange that," Garrison said.  "But I also have a thousand duties that are about to come raining down on my head, and some of my Committee members are, quite frankly, valued more for their financial connections than for their management expertise.  I realize I can give you an overview of what we're doing here, but you need to catch the person who committed this horrible crime."
She continued, "You need a guide – a translator.  You need someone who knows the language and has some sense of the politics.  That person also has to have no loyalties in this.  As we've been speaking, I've been racking my brain to think of the right person.  If you give me until, say, ten o'clock, I can give you a list of names."
"A guide," Lee repeated.  "I think I may already have someone in mind."